Earlier this year, Twin Cities Habitat joined forces with other local organizations as part of the Homes For All MN Alliance, advocating for $100 million in bonding for affordable housing throughout Minnesota. We were overjoyed when the bonding bill was approved, in an effort to preserve public housing and the construction of new affordable housing across the state!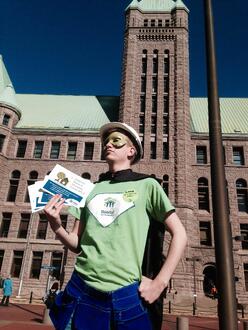 This month, we're back at it again, urging Minneapolis community members to use their voices and support a campaign lobbying for $20 million for affordable housing in city of Minneapolis, which would support the city's Affordable Housing Trust Fund, senior housing and additional funds for home ownership programs.
"The Mayor of Minneapolis, Betsy Hodges, recently released her budget for Minneapolis and now the City Council will make changes to finalize a budget by the beginning of December, 2014," said Rebecca Lucero, Policy and Community Engagement Manager at Twin Cities Habitat for Humanity. "Now is the time to act to make sure that the work we do in Minneapolis is supported – we need to ensure that the budget includes $20 million for stable and affordable homes."
While the city is seeing a building boom (as indicated by the creation of almost 2,000 rental units, a majority of which are expensive luxury apartments), the need for affordable housing in the city of Minneapolis is great. The building of high-end housing is causing an increase in the cost of housing, which is pricing people out of their current homes (homeownership and rental). Consider this:
Over 50,000 Minneapolis residents pay more than 30% of their income on housing. A worker receiving $8 per hour (the state's 2014 minimum wage), would have to work 91 hours a week to afford the average rent in Hennepin county ($946 for a modest two-bedroom apartment).
"It is essential that Minneapolis residents contact their City Council Member and ask that they provide resources to counter some disturbing trends in housing," Lucero said. "Specifically, Minnesota has the nation's largest racial homeownership gap. In Minneapolis, the homeownership rate for white households is 58 percent, compared with 25 percent for households of color."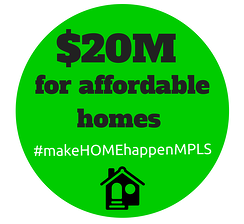 The current budget proposed by Mayor Betsy Hodges does not provide any additional funds for homeownership. It also funds the affordable Housing Trust Fund at about $6.1 million, well below the $15 million requested. Over the next few weeks, City Council Members will consider the Mayor's proposed budget – and that's where YOU can help! Just last week, the Habitat Housing Heroes delivered 125 postcards from community members to every Minneapolis City Council Representative, advocating for affordable housing. You can get involved and keep up on the progress being made by contacting your city council member. This means giving your city council member a call or emailing them. You can look up who your City Council Member is, and their number or email address here. After you contact your City Council Member, let Rebecca know, she's keeping track! (Rebecca.Lucero@tchabitat.org)
References & Resources:
Making Home Happen Press Release
$20 Million for Affordable & Stable Housing in Minneapolis