Guest Post by Cassie Paulsen- Advocacy Assistant

As you may have heard from last week's blog post, Twin Cities Habitat for Humanity is partnering with over 25 local organizations to advocate for a $20 million investment in stable and affordable homes in Minneapolis. Take action now to show your support!
The $20 million investment would support access to affordable housing through:
• $15 million to continue funding the Affordable Housing Trust Fund
• $4.5 million to create additional ownership housing opportunities
• $0.5 million to support homebuyer education and foreclosure prevention
While every piece of the $20 million investment is vital to supporting affordable housing in Minneapolis, there is one piece that has been missing from the discussion: additional ownership housing. "Right now, the City budget does not include any additional funds for homeownership," explains Rebecca Lucero, Policy Manager at Twin Cities Habitat for Humanity.

Investing $4.5 million in ownership housing counters a disturbing trend in housing: Minnesota has one of the largest racial homeownership gaps in the country. In Minneapolis, the homeownership rate for white households is 59 percent, compared to 23 percent for households of color.
"Owning a home is an important source of wealth accumulation for many families," says Lucero. "Investing in homeownership brings stability to families and equity to our community."
Affordable homeownership addresses the affordable housing needs of larger and multi-generational families. The average Habitat for Humanity partner family has between 5-6 household members, a difficult number to house in the typical rental unit.
It's also a good, practical investment in our city's affordable housing stock. For every $1 invested in ownership housing, a project receives an average of $5 additional investment, making the City's dollar spent go a lot farther.
The funding would be allocated through a competitive process administered by Minneapolis' Department of Community Planning and Economic Development (CPED), the department that oversees similar programs like Green Homes North. "CPED has the administrative expertise to efficiently manage a competitive ownership housing program—it simply needs support and funding from our City Council," explains Lucero.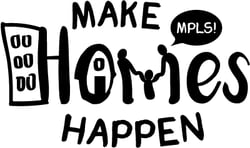 It is time to fund additional ownership housing opportunities in Minneapolis and make our city a more equitable place to live. Reach out to your Council Member today and tell them you support $20 million for stable and affordable homes in Minneapolis including a $4.5 million investment in ownership housing! (After you contact your representative, make sure you let our Advocacy team know! We're keeping track.)
You can also sign our virtual postcard to show your support! We will be collecting postcards signed by Minneapolis residents and delivering them to Council Members. Together we can #MakeHomesHappenMPLS!
Cassie Paulsen is the Advocacy Assistant at Twin Cities Habitat for Humanity, completing a year of service with Lutheran Volunteer Corps. She's "Minnesota-grown," and thus has a healthy love for camping in the BWCA, the extremes of all four seasons, and tatertot hotdish. She attended St. Olaf College, where she studied Political Science and Education.