Last night, the Minneapolis City Council met to hear from constituents about the 2016 proposed City Budget. Rebecca Lucero, Policy and Community Engagement Manager at Twin Cities Habitat for Humanity, testified in support of the Make Homes Happen Minneapolis campaign. Here's her annotated testimony: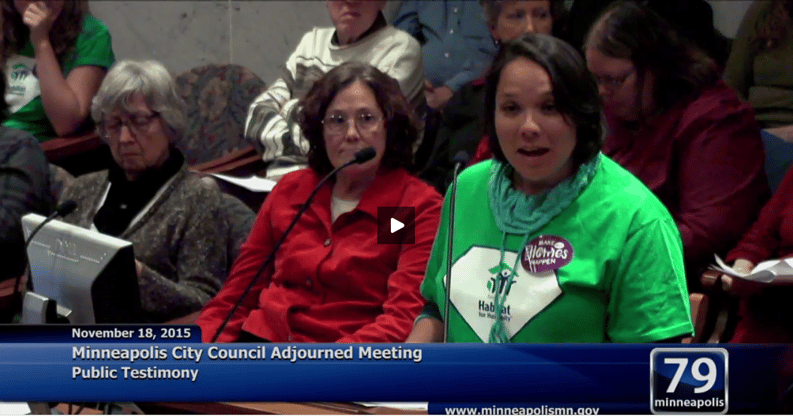 View the entire video here.
"My name is Rebecca Lucero. I work for Twin Cities Habitat for Humanity and I'm here with the Make Homes Happen Minneapolis coalition along with over 25 organizations who support the entire continuum of housing.

I want to start out by thanking the Council for their commitment to fully fund the Affordable Housing Trust Fund, one of the innovative tools that we know makes a difference in creating 'home' for Minneapolis families.

As I know you know, the need for affordable housing is much larger than we can solve through this one tool alone. That's why I want to spend a moment to talk about how critically important it is to develop opportunities for low-income families and families of color to access affordable ownership opportunities.

Minnesota has one of the largest racial homeownership gaps in the nation. In Minneapolis, the homeownership rate for white households is around 59%, compared to 23% for households of color. By investing in homeownership, we can bring stability to families and equity to our community. Importantly, over 90% of Twin Cities Habitat homebuyers are people of color.

The proposed City budget prioritizes maintaining an inventory of hundreds of vacant lots while the programs that proactively reallocate those lots into affordable homes continue to see funding cuts. And the budget proposed makes it look like there is more invested in ownership housing development than there really is. Most is actually invested in maintaining empty lots. Only approximately $1 million dollars of the affordable single family housing budget actually supports the development of single family ownership housing.

Green Homes North, a program designed to put 100 families into empty lots in North Minneapolis has a total of thirteen homes planned for 2016. Thirteen. That's it.

Very little of the money going into this program comes from the City—it's great that we are leveraging state and federal dollars, but we have HUNDREDS of lots across the city and I know you are just as anxious as I am to come up with a vision and a solid plan to fill these empty lots with affordable homes. We are excited to work alongside you to create this vision for affordable homeownership opportunities for the whole Minneapolis community."
Show your support today by signing the Make Homes Happen Minneapolis virtual post card!