At Twin Cities Habitat, we bring people together to create, preserve, and promote affordable homeownership and advance racial equity in housing. This mission is built on our organization's four core values: 1) rooted in faith and community, 2) inspired by hope, 3) committed to anti-racism, and 4) driven to innovate. These collective beliefs shape our goals and influence the work we do every day. Throughout the year, staff will share a firsthand look at each value and how it impacts their work.
Guest blog by Mike Robertson, Program Manager for A Brush with Kindness
When I came to Twin Cities Habitat for Humanity over a decade ago as a Project Supervisor for the A Brush with Kindness program, it was in large part the organization's values around faith and community that drew me. I had been working as a lead carpenter for a high-end remodeling company, and the idea of being able to use the skills and knowledge I had developed there to help people who really needed it was compelling.
My favorite Bible verse is from James (1:22): "Be doers of the Word, and not hearers only…". It's a call to action that motivates me to try to make a difference in the world, using the gifts—and privileges—I've been blessed with.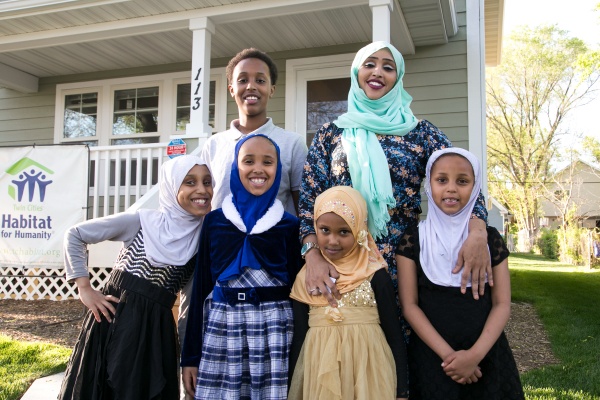 As I got to know the organization better, I noticed there was a tension between our founding in the Christian tradition (starting with Koinonia Farm in the 1942) and the religious diversity present both among our staff and our clients. It created awkward situations in which we did things like offer a Bible to Muslim families during home celebrations — not with bad intentions, but with a lack of understanding about the impact it might have. On the other hand, as a large Habitat affiliate with a broad range of corporate sponsors, we tended to downplay our founding story as a Christian organization for fear of alienating donors or other stakeholders in the community.
A turning point in my thinking about this tension was at the 2015 Habitat for Humanity International Conference in Atlanta, GA. At that conference, I heard Habitat CEO Jonathan Reckford talk about his notion of a Christian faith that was "radically inclusive" and recognized that the diversity of religious traditions all shared Habitat's core value of putting faith into action.
I felt like a weight had been lifted. This inclusive way of thinking about religious faith allowed me to engage more deeply with my clients as we did paint and repair work across the Twin Cities, side by side with homeowners and volunteers from a variety of racial, ethnic, and religious backgrounds. To be curious, rather than afraid to talk about the differences—and similarities—of our religious beliefs. To stop comparing my faith to others' through the binary of "better than" or "worse than."
I remember working with an Ethiopian family in the Frogtown neighborhood of St. Paul. Each morning, the homeowner would bring out a tray of hot, sweet tea and serve it to me and the other staff and volunteers. I recognized this ritual as an important cultural practice for the family and encouraged volunteers to get past their "Minnesota Nice" tendency (to say no three times before accepting a gift) and to recognize the value of what our homeowner was sharing: warmth, sweetness, hospitality, God.
For the past several years, our internal work as an organization around issues of diversity, inclusion, and equity has born remarkable fruit in our desire to center a radically inclusive notion of faith:
We've revised our home celebration ceremony to be an event centering the new homeowner and encouraging them to incorporate elements of their culture and religion.


We've all taken an Intercultural Development Inventory to help each of us understand our own journeys (and blind spots) as we work with clients who are diverse in every sense of the word.


We've created a variety of forums for staff to explore and wrestle with religious, racial, and social issues that impact both us and our work in communities.
Though I know there's plenty more to do, I'm proud of the work we've done to get to a fuller understanding of what being rooted in faith and community means, and to re-envision our values so that they better reflect who we are.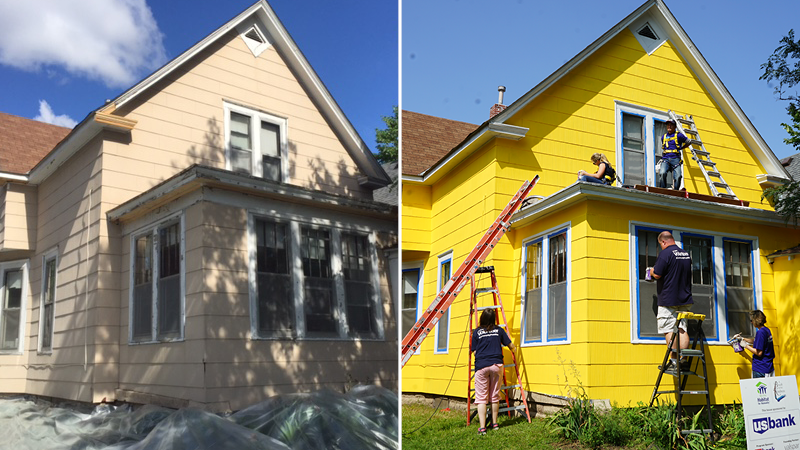 Volunteer with Habitat
Volunteering with Twin Cities Habitat is a wonderful way to put your faith in action and to serve the community! Learn how you can get involved.