Guest Blog by Noah Keller
Twin Cities Habitat Staff
Twin Cities Habitat for Humanity (TCHFH) is excited to announce two Global Village build trips in 2018! TCHFH staff will lead teams of approximately 20 volunteers to the Dominican Republic and Nicaragua:
Dominican Republic: February 3-11, 2018
Nicaragua: March 10-18, 2018
Registration is now open for these opportunities; please contact me at noah.keller@tchabitat.org for more information!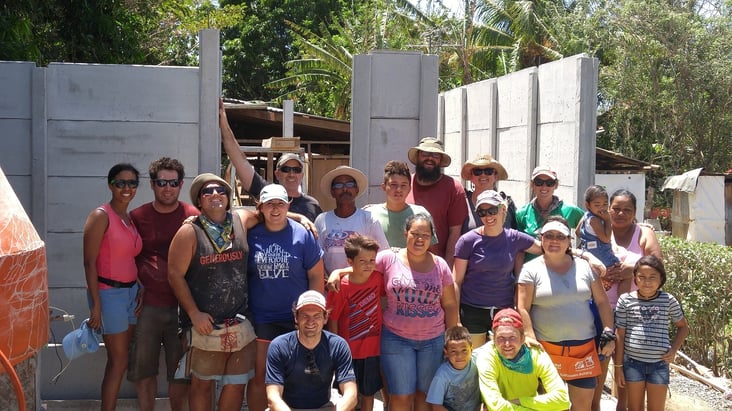 Global Village trips are each unique experiences, but common themes connect them: teamwork, global citizenry, intercultural exchange and, most importantly, motivation to improve access to affordable housing everywhere. No previous construction experience is necessary, nor is the ability to speak Spanish. The host staff shows us how to complete construction tasks, and we have interpreters on site to facilitate communication with the masons and members of the host community. We work on site 5 days, leaving 2 days in-country for travel between the airport and site location, plus typically a half-day of planned R and R (check out a national park, visit a waterfall or beach, etc).
The $1,350 trip cost covers lodging, all meals, all in-country transportation during the official trip dates, and guide/interpreter costs. Teams stay in simple, decent lodgings as close to the build sites as possible. Our guides in the host countries arrange optional cultural/recreational activities each evening and on the day after the build week ends, and sometimes there are nominal out-of-pocket costs (park entrance fees, cultural site admission, etc) for those who choose to participate.
Teams are led by Twin Cities Habitat staff with past Global Village experience in Central America. Team leaders are happy to answer any questions you might have, and we strive to ensure we are setting reasonable expectations for these experiences. A $500 deposit is required (within a week of confirming) to reserve your spot on the trip. We understand that this is a big commitment in terms of time and resources so please do not hesitate to ask questions and make sure it is a good fit for you. We hope you'll consider joining us on one of these fun and rewarding build trips!