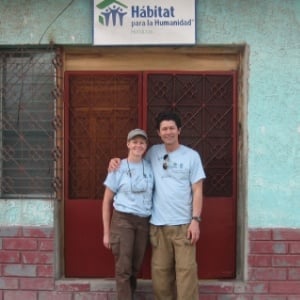 Kari Woodson's Habitat story began similarly to how many volunteers first connect with our mission - a volunteer day coordinated by her employer. Following that build day, and after hearing about Habitat's Global Village program, Kari found an opportunity to build with Habitat in El Salvador and immediately signed up. She was excited to travel abroad, meet new people, learn new skills, and help build more homes with Habitat. But what Kari didn't know, is that there is something incredibly special about the bonds created among Global Village trip members. And that she herself would experience such a bond, which would turn in to much, much more...
Among Kari's fellow teammates on her first Global Trip to El Salvador in 2005 was Bill Woodson. At the time, Bill lived in southern California, and, similarly to Kari, had never participated in a Habitat Global Village trip before. Both Kari and Bill really liked Habitat, and felt connected to the organization's mission. Building with Habitat was also a good fit for Bill, because of his work as an architect. The pair felt a special connection during their time in El Salvador, and stayed in touch after their trip ended and the team returned to the United States.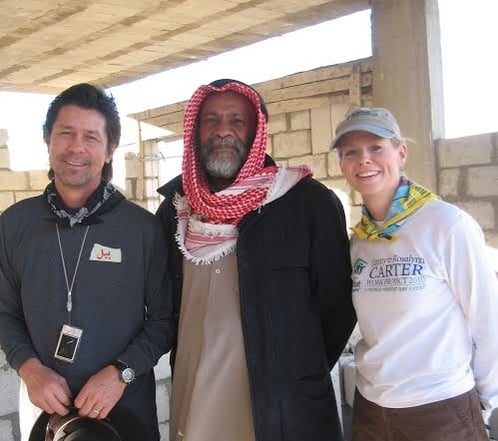 Roughly thirteen months later, the two were married, and Bill moved to Minnesota. For their honeymoon, they returned to El Salvador!
"We volunteered with Habitat El Salvador for one day during our honeymoon," Kari explained. "The local Habitat staff also brought us back to the village where we had worked the previous year, and showed us the finished houses. It was really special, because the owner of the home I helped to build was there, and he showed us around."
Since then, the couple has remained involved with Habitat's work - both locally in the Twin Cities, and with Habitat's International program. Kari participates in Twin Cities Habitat for Humanity's Women Build opportunities. Bill has taken part in past Habitat On (or Off) the Hill events with Habitat's advocacy team, and also served as a Site Supervisor during the Jimmy & Rosalynn Carter Work Project that took place in the Twin Cities in 2010. The couple has also attended past Hard Hat & Black Tie Galas, in support of Habitat's work in the local communities.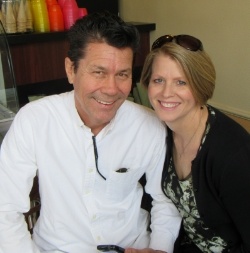 The Woodsons celebrated their ninth anniversary last month, and Kari recently returned from her 11th Global Village trip in Portugal just last week. The couple became Global Village/Thrivent Builds team leaders several years ago, and try to lead a trip every year. In fact, they are busy planning another trip for this Thanksgiving, appropriately timed to celebrate the trip they met on 11 years before.
"We both love to travel and learn about new places and new cultures," Kari shared. "You can do all that and do something good at the same time on these trips."
Although Kari's favorite experience will always be that first global build where she met her husband, she still feels every trip is incredibly rewarding in its own way. She even made a point to bring each of her kids on a trip before they went off to college.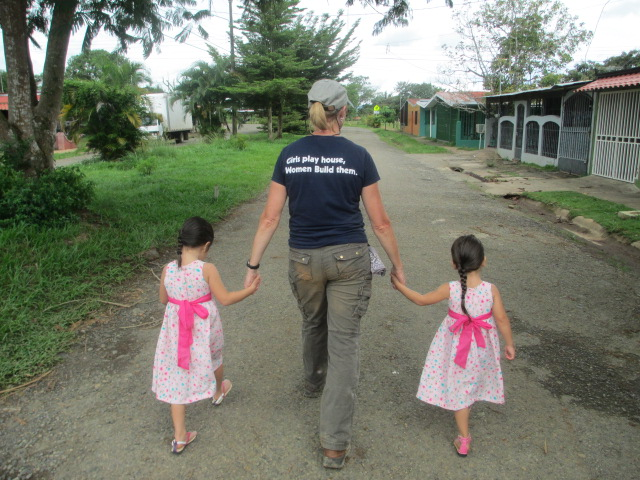 "Each build is different, and so are the teams," Kari said. "But you always connect with people. It's the camaraderie and common purpose that brings people together. It is so rewarding to help a family realize their dream of a safe, decent home. And that, to me, is the best part."
You can read journal entries from past Twin Cities Habitat Global Village trip participants on our blog, and express interest in future trips to Costa Rica and Ethiopia on our website.
*All photos used with permission, courtesy of Kari and Bill Woodson.