Earlier this year, two local groups volunteered together on a Habitat build site in Coon Rapids, to make a difference in the Twin Cities community.
"The local Thrivent office wanted to have a volunteer day for women, but they weren't sure they would have a full crew. I asked BridgeLink if they would want to partner and bring a crew of women. They loved the idea!" said Stephanie Nelson, Faith Community Relations Sr. Associate.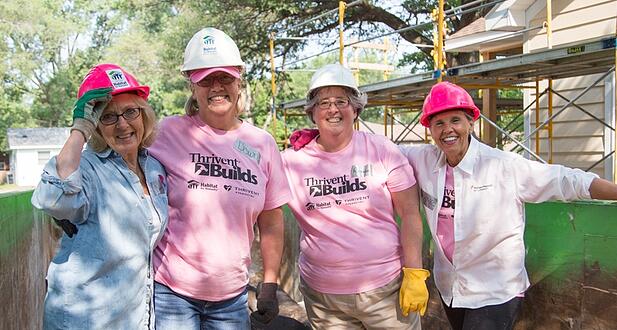 Diane Dworshak, Financial Associate at Thrivent Financial in Coon Rapids, rallied a group of women interested in volunteering and helping others, and those who had always wanted to work on a Habitat site but had not previously been presented with the opportunity to do so.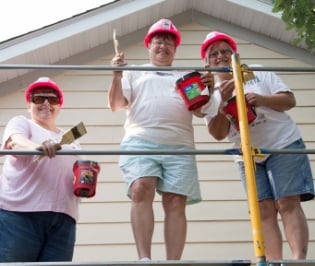 "My group worked on a number of tasks, from cleaning the yard and remaining building supplies, to painting outside and taking down the scaffolding," Diane shared.
Also on site that day was a group from Bridgelink, led by Jill Discher. They helped with yard work, touch-up painting, and scaffolding.
Both groups were made up of women team members, and the build day was appropriately called "Diva Day." Thrivent volunteers donned pink shirts and hard hats while the BridgeLink crew wore Habitat shirts as they all added finishing touches to the home.
"The highlight of the day for many of us was hearing about the family that would be moving into the house, meeting other people, and learning more about Habitat," Diane said. "A number of volunteers expressed appreciation for the great information that was shared, and were surprised at how many of us had misconceptions about how the organization worked."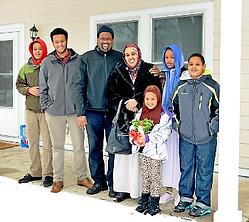 In total, twelve women participated in the Diva Day event, and according to Diane, "many of the volunteers have already recommended this experience to people and will continue to recommend it".
The Coon Rapids house is now the home of Amina Hiliye, Said Farah, and their five children. The family recently celebrated their new home with a home dedication, and officially closed on the property shortly afterward. Said and fellow family members also worked on the Coon Rapids home, helping to build the home from start to finish.
"His joy is contagious," said Site Supervisor, McKinsie Clyde. "And he is so thankful to all the volunteers who helped to build his new home."