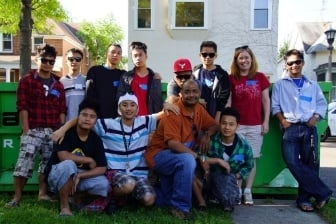 Twin Cities Habitat for Humanity partnered with Thrivent Financial, Frogtown Neighborhood Association, and Frogtown Rondo HomeFund for an amazing neighborhood cleanup in Frogtown.
Habitat has had a long and strong partnership with the Frogtown Neighborhood, as Matt Haugen emphasizes in this previous blog. In 2011, we started our neighborhood revitalization work in the Frogtown community. Rather than impacting the life of one family, we are working with neighborhood residents and organizations to make sure Habitat's impact extends to the neighborhood as a whole. After completing an impact study of the neighborhood and discussing the results with residents and local organizations, it became apparent that litter, trash, and dumping are a huge concern in the neighborhood, especially in the alleys. This led us to take action!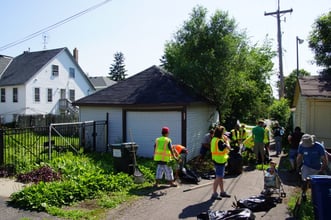 On June 27th, over 50 people from all walks of life came together with one goal in mind – to help clean up the alleys of Frogtown. Community members, students, veterans, families, members of Youth United, and neighbors all came together to accomplish this huge task. Many of the volunteers were deeply invested in this project, as it took place in their own neighborhood. In a matter of hours, we managed to complete a deep clean of alleys between Charles and Edmund on the blocks just east of Dale Ave. We collected many mattresses, appliances, couches, bags of trash, and truckloads of weeds, trees and overgrown shrubs.
This was only phase 1 of Habitat's work in Frogtown this summer. On October 3rd, we will be hosting the first ever Garage-a-palooza. We will be repairing and painting up to 8 garages all in one day, and adding motion detector lights for additional security. Stay tuned for more updates and opportunities to volunteer for this fun event!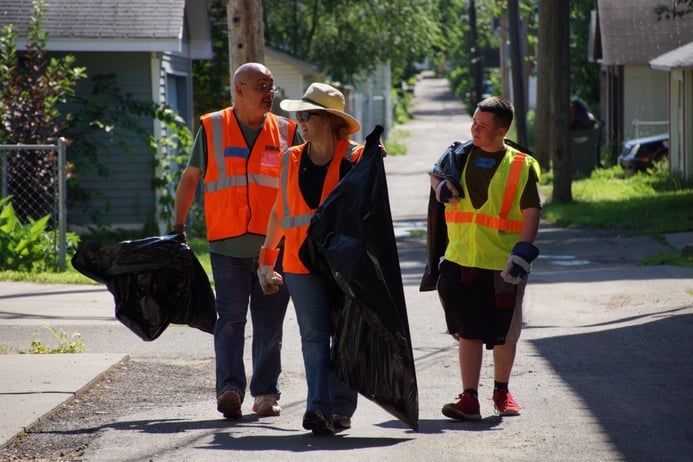 A huge thank you to everyone who helped with this event! We never would have been able to complete this cleanup without our partners and all the volunteers.