The housing market collapse, and Great Recession that followed it, did not hit the Twin Cities with uniform force. Neighborhoods with historically low property values and low median incomes got the worst of it. That includes the diverse neighborhood of Frogtown that runs along the north side of I-94 in St. Paul. This is a community that Twin Cities Habitat for Humanity has a long and strong relationship with.
In 2011, at the request of Frogtown residents, Twin Cities Habitat joined Frogtown Focus; a community effort to improve a 16-block section of Frogtown, from University to Thomas, and Dale to Western. Residents initiated this effort because they were concerned that, in the wake of the housing crisis and in anticipation of the light rail Green Line, there was a lack of responsiveness and coordination from housing developers. This lack of a coordinated housing plan was putting the neighborhood at risk for a steep decline. Frogtown Focus held over 20 listening sessions and focus groups to create a resident-inspired development plan.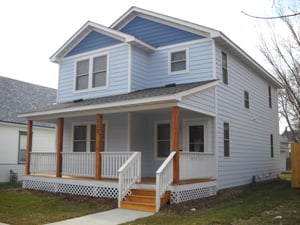 This plan matched well with many of the things Twin Cities Habitat is good at: building quality new homes, rehabbing older homes that can be made livable again, and making critical repairs to help lower-income homeowners remain stable in the houses they've owned for years. However, this time Twin Cities Habitat's goal wasn't just helping a single family, it was to improve overall quality of life in a neighborhood. This Neighborhood Revitalization approach is being taken by Habitat for Humanity affiliates around the country.
This shift required a new way to evaluate impact, so Twin Cities Habitat committed to doing a follow-up evaluation 3 years later to see what worked, what didn't, and what still needed to be done. The organization just released the full report (and a condensed version) of the 3-year follow-up study comparing neighborhood conditions from June 2011 and June 2012 to June 2014.
During the timeframe of this study many organizations made housing investments in the 16-block focus area. By itself, Twin Cities Habitat built 4 new homes on empty lots and completed 2 rehabs. All six homes were sold to qualified first-time homebuyers with affordable mortgages (Twin Cities Habitat also built 1 home and completed 1 rehab just outside the focus area). On the repair side, Twin Cities Habitat's A Brush with Kindness program completed repairs on 5 homes in partnership with low-income homeowners.
The organization also strengthened its relationships with residents and partners, adapted its work in response to community desires, conducted outreach at community events, and provided support to neighborhood initiatives.
It takes teamwork
The Frogtown Rondo Home Fund (FRHF) was formed in early 2013 to further increase collaboration and improve housing conditions in the neighborhoods. From 2011-2014 FRHF documented these housing activities in the Frogtown Focus area: Several homes were rehabbed and built through local groups including Preserve Frogtown, Model Cities, Ramsey County's 4R Program, Greater Frogtown CDC, and Urban Homeworks. 7 properties were land banked by the City of St. Paul Housing and Redevelopment Authority and the Twin Cities Community Land Bank. And outreach events were also held around public safety, community gardening, voter registration, and tenant issues by the Frogtown Neighborhood Association (FNA), the Frogtown/Rondo Action Network (FRAN), and the Community Stabilization Project (CSP).
The Results
Although a cause and effect relationship cannot be stated between revitalization efforts and community changes, the data from surveys and property assessments do suggest that the area has avoided the significant decline in property conditions and quality of life that were feared in the wake of the housing crisis and at the start of this effort. The data also show a lot of opportunities to do more.
The Recommendations
Upon reviewing the findings, community partners made the following recommendations for future action. These recommendations are meant to inform conversations among stakeholders who are planning housing work in the area:
| | | |
| --- | --- | --- |
| What Got Measured | What Was Found | Community Partner Recommendations for Action |
| Vacant Buildings | The number of vacant homes was cut in half from 2011 to 2014, mostly through rehabilitation rather than demolition. | Continue work to rehabilitate and fill vacant homes. |
| Vacant Lots | The number of vacant lots increased slightly due to the fact that building demolitions outnumbered new construction projects between 2011 and 2014. | Create/update a coordinated plan for vacant lots. |
| Property Conditions | Property conditions improved on some homes and declined on others. The 2014 survey showed 326 homes with repair needs. Paint was the most common aspect needing repair. | Increase the impact of home improvement programs, including ideas such as streamlining application processes, increasing services to rental properties, and focusing on specific blocks. |
| Resident Satisfaction | Overall resident satisfaction is high and most residents would prefer to continue living in this neighborhood. | Support the preference of most residents to stay in the neighborhood. Identify additional ways to make housing affordable and prevent displacement. Conduct further research to determine whether displacement is happening or likely. |
| What Residents Liked BEST | Residents' favorite aspects of the neighborhood are: 1) their homes or apartments, 2) access to amenities, 3) proximity to public transportation, 4) neighbors. | Build upon neighborhood assets and market these positive aspects of the neighborhood. |
| What Residents Liked LEAST | Safety and litter/trash/dumping are the top concerns of residents and are most likely to impact overall satisfaction. Other top concerns are: neighbors, types of housing available, and affordability of housing. | Increase efforts to impact safety and litter/trash/dumping issues. Investigate and address resident concerns about types of housing available and affordability. |
| Social Capital | Owners and renters did not differ in their overall satisfaction and feelings of connectedness to the neighborhood, which is in contrast to some studies in other communities. | Investigate why renters show higher feelings of connectedness in this area than in most neighborhoods. See if the answers shed light on how to increase their feelings of connectedness in other neighborhoods. |
What's next?
This survey demonstrates the value of continued investment in Frogtown. With a high number of residents committed to the neighborhood it creates a great opportunity to work together on the recommendations above. Twin Cities Habitat is committed to continuing to work with its partners in Frogtown, investing in housing and helping address residents' concerns. If revitalizing neighborhoods is something that you think is important and want to be a part of, please contact us and find out how you can help by emailing info@tchabitat.org.