The 18th Annual CEO Build brought together more than 40 corporate leaders to volunteer on a Twin Cities Habitat for Humanity construction site alongside Governor Tim Walz and St. Paul Mayor Melvin Carter. The local leaders volunteered their time at a Habitat development along Maryland Avenue in St. Paul's North End neighborhood.
Governor Walz addressed the group in the morning and spoke to the ripple effect of stable housing. "If we are really concerned about what happens to our workforce, what happens to our children, what happens to our communities, stable housing is at the core of that and Habitat plays a key role," Walz said.
After the morning safety talk, the executives got to work. They split up across five houses and tackled tasks including framing, drywalling, painting, trim, and flooring.
The event was co-chaired by Andrea Walsh, CEO of HealthPartners, and Chris Hilger, CEO of Securian Financial. They teamed up to recruit other executives to participate and spoke during the lunchtime program about the importance of affordable homeownership, both for individual families and for the broader economic vitality of our region.
Read more about the 2019 CEO Build in the Star Tribune.
Check out a few highlights from the event: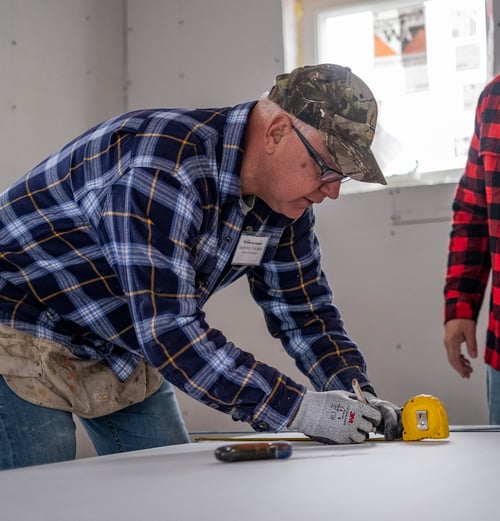 Governor Walz was put to work on drywall. It was clearly not his first time.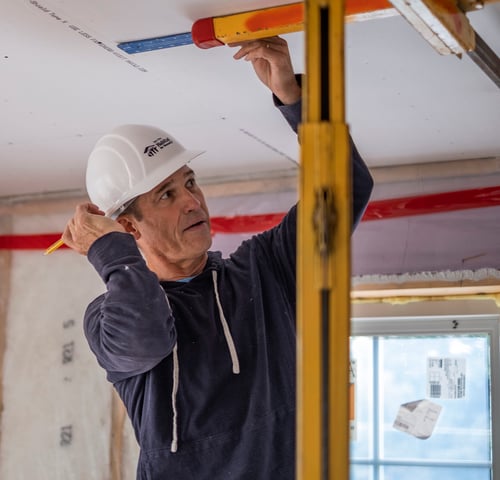 Matt Majka, President of the Minnesota Wild, working on ceiling drywall, an unpopular but ever-important task.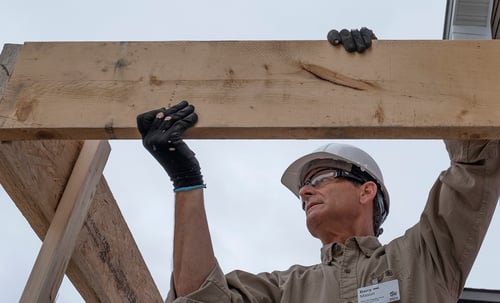 Barry Mason framing the front porch of one of the houses. Barry is a former Twin Cities Habitat board chair, retired IBM executive, and founding member of the "Third Act" regular crew.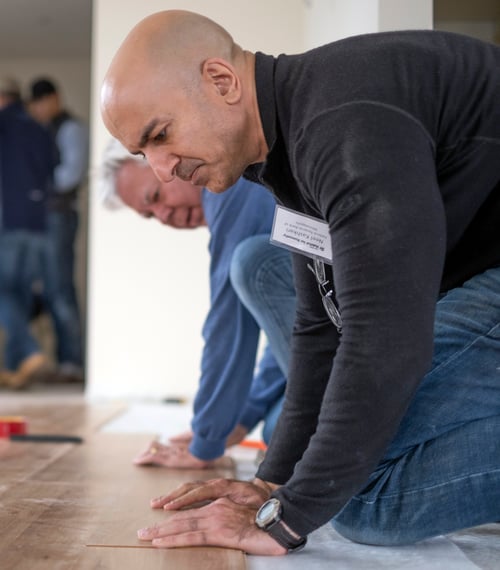 Neel Kashkari, President of the Federal Reserve Bank of Minneapolis, and Dr. Eric Jolly, President and CEO of the Saint Paul & Minnesota Foundations, working together on flooring.
Jonathan Weinhagen, President & CEO of the Minneapolis Regional Chamber of Commerce, working on drywall.

Dave Bangasser, President & CEO of Opus Design Build, and Matt Kucharski, President of Padilla, braved the intermittent rain to frame trusses. This is the fifth house at the development, which will ultimately have 11 single-family homes.
B. Kyle, President/CEO of the St. Paul Area Chamber of Commerce, painted in one of the homes on the site.
Jon Campbell, President of the Wells Fargo Foundation, working on trusses.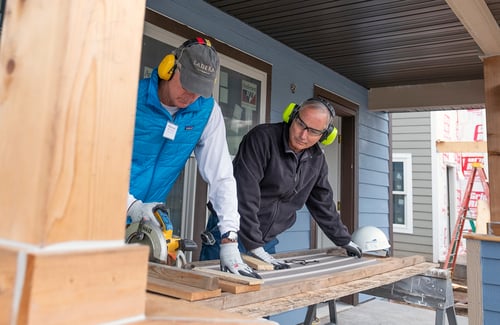 Bert Colianni, CEO of Pohlad Cos Inc, and Jay Debertin, President & CEO of CHS, teaming up to work on the front porch.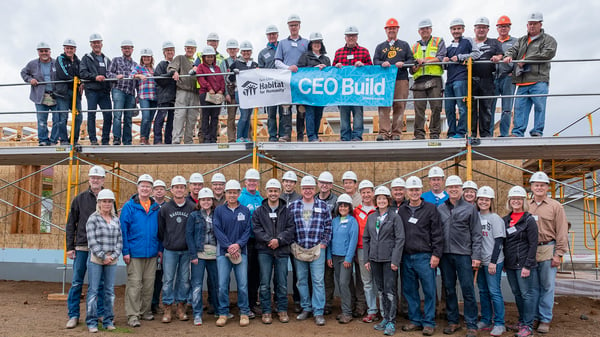 Group photo before lunch with Governor Walz.
Many thanks to the executives who joined us for the day! Below is a list of all the companies represented at this year's CEO Build:
Allianz
Andersen Corporation
Blue Cross Blue Shield
Children's Minnesota
CHS Inc
Computype
Deluxe Corporation
Doran Companies
Dorsey
Faegre Baker Daniels
Federal Reserve Bank of Minneapolis
GREATER MSP
Hartfiel Automation
HealthPartners
Lund Food Holdings
Minneapolis Regional Chamber of Commerce
Minnesota Chamber of Commerce
Minnesota Wild
MNUFC
Mortenson
Opus
Padilla
PCL Construction Services
Pohlad Companies
Renewal by Andersen
Ryan Companies
Schwan Food Company
Securian Financial
SMSC Gaming Enterprise
Shakopee Mdewakanton Sioux Community
St. Paul and Minnesota Foundations
St. Paul Area Chamber of Commerce
The KNW Group
The Toro Company
Uponor
Wells Fargo