The basic philosophy of Habitat for Humanity is simple: neighbors working alongside neighbors to create safe, stable homes and strong communities. But the story of each house has unique characters—homebuyers, volunteers, sponsors, donors, site supervisors, neighbors—who fill the home with energy and love.
This summer, we're following one property from start to finish. We'll hear the stories of the many people who touch the project from the early stages of finding land through the hopeful home dedication ceremony. The blog series is called "Yes, in my backyard." You can find out why in the first blog about the amazingly generous neighbors who donated land to Habitat. Catch up on the second post about the many hands of hardworking volunteers who've been building the house from the ground up.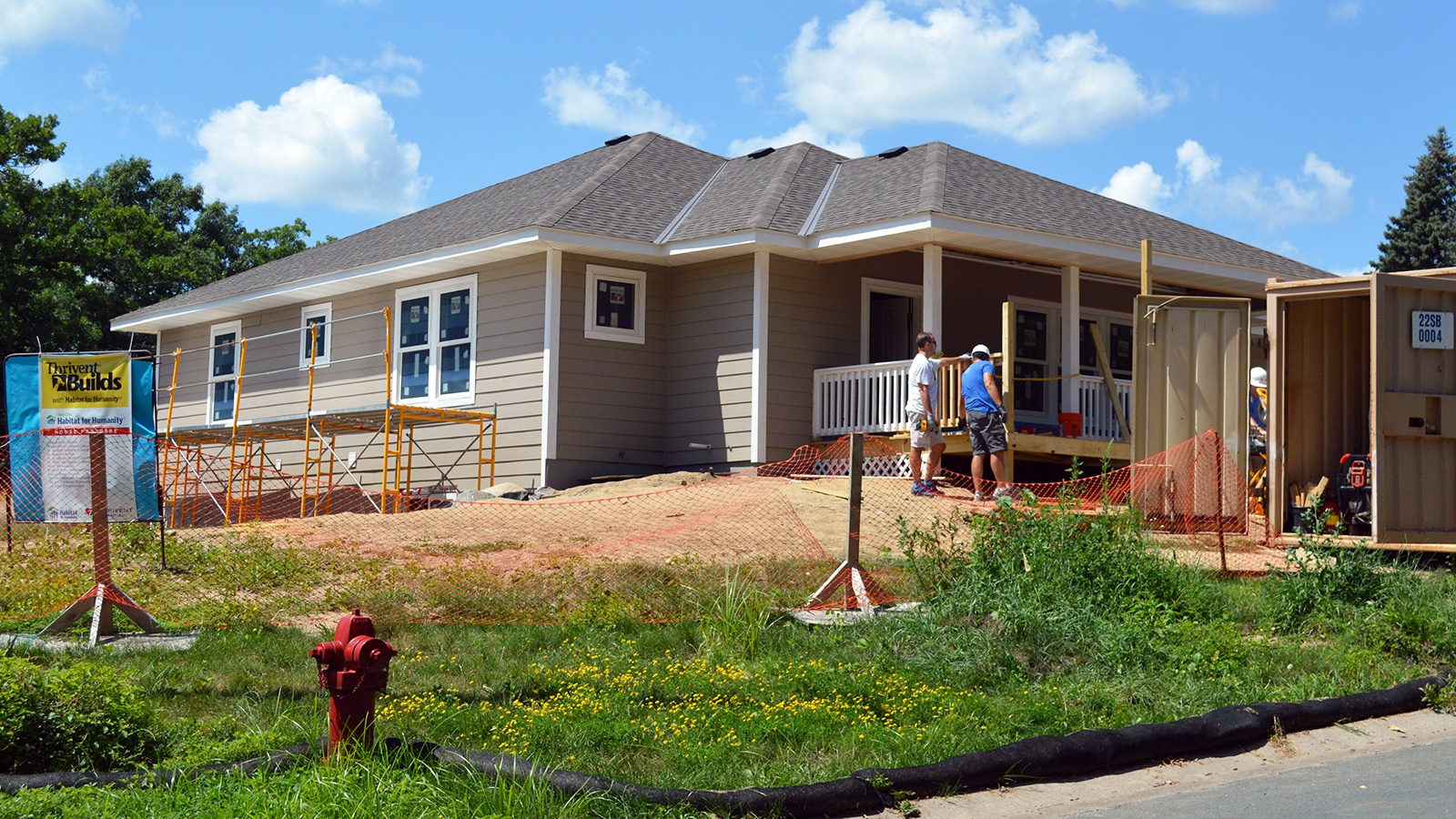 A home designed for accessibility
Today's story is about the house itself—the "bricks and sticks" that will soon become a home for a local family. Every home Habitat builds meets local building standards and is constructed with quality, durability, and efficiency in mind.
On top of that, the property we're following in this series was designed to meet the homebuyer's specific accessibility needs. The family, who we'll meet in a later blog, has a parent who uses a wheelchair for mobility.
When they began Habitat's Homeownership Program, the homebuyer family indicated a need for accessibility modifications in their house. In these cases, homebuyers commit to purchasing a specific property before construction begins, so Habitat's architects can draw up a custom home design.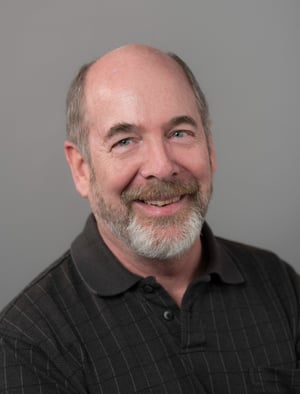 That's where John Hall comes in. John is the Design and Building Technology Manager at Twin Cities Habitat and our go-to person for accessible home design. John shared with me how he approaches these unique projects.
"Modifications are always tailored to the individual with the health or disability needs," John explained. That means it's important to meet with the homebuyers before starting construction to have a complete understanding of their needs. When he and the homebuyers meet, John also invites an Occupational Therapist to offer advice and suggestions. Together, they "identify specific design elements to be added to the house to adequately provide independence, safety, and health needs."
The most common design modifications are zero-step entries, wider hallways and doors, automatic door opener for exterior doors, universal design cabinets, and roll-in showers. This property includes all of these accessibility elements. Sometimes (but not in this case) we also install a body lift system in accessible homes.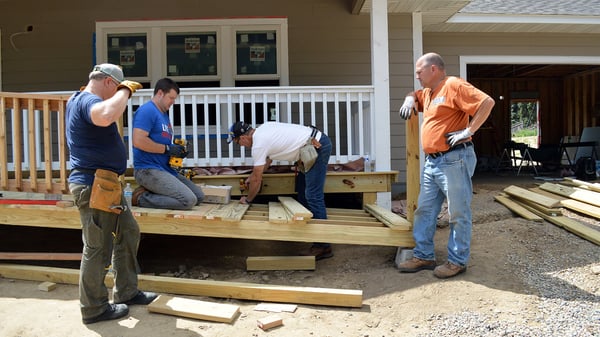 Volunteers working on the ramp to the front door of the home.
Habitat typically builds one or two homes per year with specific accessibility modifications. But our thoughtful design doesn't stop there. All of our newly constructed homes also incorporate some elements of Universal Design, including laminate flooring, motion sensor light fixtures at entryways, and single-lever faucets in kitchen and bathrooms. These elements help make homes more accessible and convenient for all people, regardless of ability.
Quality, efficient Habitat homes
Beyond accessibility, Habitat homes are built with energy- and cost-efficiency in mind. In fact, we're proud to be the #1 builder of ENERGY STAR homes anywhere in Minnesota. All our newly built homes are constructed to comply with LEED Silver standards, so they're more environmentally friendly than a typical new home. They waste less water, have improved insulation to reduce heating and cooling efforts, and use energy-efficient appliances.
This isn't just good for the planet; it's also great for the homebuyers. The energy-efficiency of Habitat homes means homebuyer families pay less each month for their utility bills. It's one of the ways we keep long-term homeownership affordable for the households who partner with us.
The quality of Habitat homes is often misunderstood. Some hear "affordable housing" and think our homes must use lower quality materials or building techniques. That's not the case at all. We can sell durable, sustainable homes to homebuyers with an affordable mortgage, because of generous donors, volunteers, sponsors, and public funders.
If you're surprised by this, consider brushing up on the facts about affordable housing. There are common misconceptions about what "affordable housing" means, causing some to view it in a negative light. This is why some people say "not in my backyard" to affordable housing developments that are desperately needed.
But energy-efficient homes aren't just good for the homeowner – they're good for the planet. And Universal Design isn't just good for people with disabilities – it's good for all of us. The same goes for affordable housing. When every family on your block can afford a stable place to call home, you and all your neighbors benefit.

That should make everyone say "Yes, in my backyard!"
Don't miss a post
Stay tuned over the coming months to read about the many others who touch this project along the way. Don't miss a story—subscribe to our blog below to be alerted when we publish new post. And, if you want to be one of the unique characters breathing life into a Habitat home, get involved as a homebuyer, volunteer, donor, or sponsor.