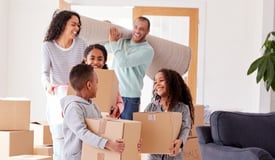 If you are reading this, that likely means you are moving to a new apartment or home. If that is the case, congratulations! As you prepare for your move or the closing of your home, you may feel overwhelmed with excitement and anticipation of what the future holds for you. One thing you might not feel too excited for is packing. Moving doesn't have to be as stressful and time-consuming as you may think. Here are five tips to help you move based on the old slogan "out with the old and in with the new."
Step 1. Gather Your Supplies
It sounds counter-productive to accumulate more things before you leave, but this step is critical to a successful move. You will need to locate all the plastic tubs and cardboard boxes you can find. Sure, you can buy them, but a more earth-friendly route could be going to local grocery stores and asking if they have produce boxes you can use. Remember the golden rule of thumb for moving: you can never have enough boxes.
Pick a space and designate it to storing boxes. Once you end up with something that resembles the Leaning Tower of Pisa, it's time to get started. Get some packing tape, permanent markers, and bubble wrap (or old newspaper/towels) for good measure.
Never doubt the power of teamwork–especially when it comes to moving. Ask if any of your friends and/or relatives are willing to help you. After all, many hands make light work.
Step 2. Pick Where to Focus First
Okay. So you have ample boxes and a great team. Now it's time to come up with a game plan on where to start. Your home has likely acquired a lot of stuff during your time spent there. Should you start with the kitchen? The bathroom? The bedroom? A little bit of every room? If you start to feel overwhelmed, remind yourself that you have already started the process of moving!
Gathering boxes, tape, and a moving team are all critical parts of moving. With that boost of confidence, pick a room and get to it! A good place to start is the part of your current home that you spend the least amount of time in, or a room with fewer items to go through. Once you finish packing up that first room, you'll have the confidence and experience to tackle more complicated rooms, like the kitchen.
Step 3. Keep, Donate, Toss
With your first area selected, designate three boxes labeled "keep," "donate," and "toss." Take extra care of the items you are keeping by wrapping them in bubble wrap or newspaper. As for the other two categories, fill them to the brim, then get them out of the way. Once you have completed this room, all that should remain are taped, labeled boxes that are making the move with you. This will help movers (hired team or friends) make sure the right stuff makes it on the truck, leaving the non-essential items behind.
How do you decide on giving something away or taking it with you? Ask yourself these questions:
When was the last time I used this?
When do I foresee myself using this again?
Can this be used for something else?
If you haven't used a perfectly good blender since you got it from your wedding registry, now might be a good time to give it to another home. Donating is a great way to help the planet by keeping items out of landfills, as well as helping others. Maybe you have an old set of drawers that could use a little love. Decide whether you want to put the time into a DIY project or give it away for someone else to enjoy.
Where to Get Rid of Stuff
Okay, so the "toss" boxes go in the garbage (once you've ruled out what can and cannot be recycled), "keep" boxes go with you, but where should the "donate" boxes go? Luckily, there are several donation centers in Minnesota that are always looking to take gently-used items off your hands. ReStore in New Brighton and Minneapolis happens to be a donation center and home improvement store all in one.
Bring your slightly-used or new items to ReStore and pop in to shop after donating. You may find an item perfect for your new space! If you are strapped for time or have a large number of items to donate, ReStore offers free donation pickups. Simply request a pickup during an available time that is convenient for you.
Step 4. How to Pack for a Move
Physically packing your belongings can be challenging. You may even run out of boxes despite being extra prepared. There are many ways to get creative while packing that save you space and make unpacking easier.
Keep clothes on hangers. After purging your closet, consider keeping the remaining clothes on hangers. What you will need to do is make a hole at the bottom of a medium to large garbage bag. Then, feed a bundle of clothes hangers into the bag, pulling the top of the hanger heads through the hole. Adjust the bag around your clothes and you are set! To unpack, simply hang up your clothes in your new closet and cut the bag off.
Use pots as storage. Fill your pots with small kitchen items/gadgets that may get lost if packed in a jumbled box.
Utilize your suitcases. If you have a few suitcases or duffle bags laying around, use them to your benefit for packing.
Take pictures of the items you are packing up. Capturing a quick photo on your phone may save you hours of digging through boxes to find a singular item. It may seem unnecessary while packing, but having photos to reference will really come in handy during the unpacking process!
Consider packing an essentials bag as well, filled with toiletries, a few changes of clothes, and other items you will need to have access to long before everything else gets unpacked. Also, think about how you will be unloading from the vehicle when you get to your new place. Make sure the boxes you want the best access to go into the truck last. Always start by packing large items such as couches, bed frames, and coffee tables first. They will take up the most space so it is important to allocate for them early on.
Step 5. Repeat and Get Moving!
With your process in place, you will move through rooms much easier. You might be surprised at how fast the process goes! After everything is packed, or you feel like calling it a day, look around and be proud of how much progress you made.
Moving can be a very emotional experience, so take the time you need to process the life transition and hard work it took to get you to this place. Thank yourself too, for helping those in need by giving away items that no longer served you. You may be surprised at how good this feels. If you find yourself looking for ways to keep this good feeling going, consider volunteering with Habitat.
Congratulations on your new home!