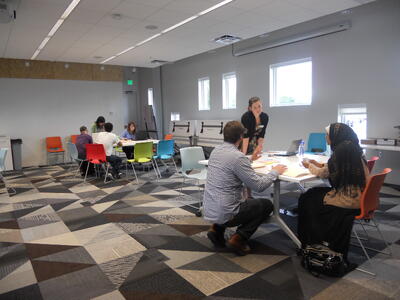 It's easy to become overwhelmed when starting the process of buying a home. There's so much to know and many first-time homebuyers have lots of good questions.
A Twin Cities Habitat for Humanity Application Open House is a great place to start to learn more about the responsibilities and benefits of homeownership. We help families navigate through this sometimes confusing process.
Once a family is determined to be eligible income-wise to buy a Habitat home, (see our income requirements here) applicants must attend an Application Open House, where they meet with staff to review their application and materials.
This is a required step if you want to apply for the Homeownership Program and you must make an appointment. Because of limited staff and volunteers, we can only meet with those who have made appointments.
Here are some helpful tips to get you through the process:
Applicants who have already been to an orientation session, received an application, filled it out completely and gathered all the appropriate documents should come to the Open House.
Applicants should not come if they don't have an application or don't have all their documents.
It's important to be organized, prepared and attentive to detail. We send folks home if they are missing even one item or signature, so make sure not to forget anything!

Make sure to bring all required application documents. This includes but is not limited to: the application, three months of paystubs for all jobs, letters from employers, verification of other income, two years of tax forms for all adults, colored copies of Social Security cards for all family members, colored copies of photo identification for all adults, proof of amount paid for rent, release forms and other documents as applicable.
The appointment should take about one hour.
You can get to our office, 1954 University Ave. W. in St. Paul, on the new light rail Green Line, by bus, by bicycle, by foot or by car.
It's O.K. to bring you kids along, too. We have a new children's area for them to wait in, but we do ask that you keep an eye on them.