At the end of August, we wrapped up Rainbow Build 2014, a two-week initiative dedicated to celebrating the diversity of our volunteers, community supporters and family partners! Members of the Lesbian, Gay, Bisexual, Transgender, Queer and Allied (LBGTQA) community came together from August 18 – August 29 to volunteer on two Habitat homes in Minneapolis – one at 2513 14 Ave., and one at 3022 Morgan Ave.
"Twin Cities Habitat developed our Rainbow Build Initiative to strengthen our relationships with individuals and community groups in the Twin Cities LGBTQA and Allied community," said Mark Turbak, Twin Cities Habitat staff member. "In addition, we wanted to use the opportunity to educate the community about ways we can all advocate for affordable housing for LBGTQA families."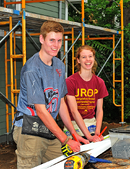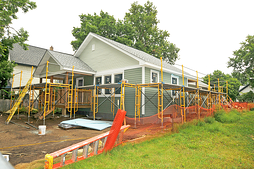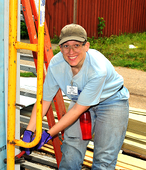 This is the second year that Habitat has hosted the special build in the Twin Cities. Last year's Rainbow Build week recruited 60 volunteers over five days, whereas this year's event had 10 build days with 93 volunteers!
"The energy on a Rainbow Build is infectious," Mark shared. "The combination of enthusiasm, commitment to families in our community, and inclusiveness gives the day a feel unlike any other Habitat project I've experienced."
Speakers were on-hand each day from organizations like Avenues for Youth, Clare Housing, Advocates for Human Rights, and Spirit on Lake to educate volunteers on issues facing the LGBTQA community including access to safe, affordable housing.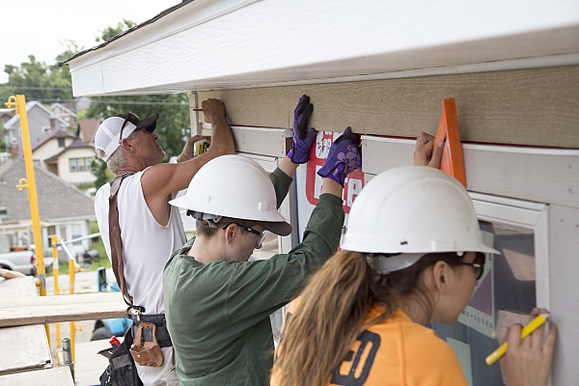 A few local groups participated in Rainbow Build this year, including a crew from Target.
"Rainbow Build was a great opportunity to align Target's commitment to the community and embracing diversity and inclusion," said Alison Lienau, Senior Project Manager at Target. "Our Target colors shone brightly as we worked together in the beautiful sunshine alongside the future homeowner to bring her dream and Habitat's mission to life, while carrying out Target's legacy of giving and service via LGBTQA Business Council members donating their time and talent in communities where they work and live."
Twin Cities Habitat is planning on hosting the third Rainbow Build event during the summer of 2015. Stay tuned for details!