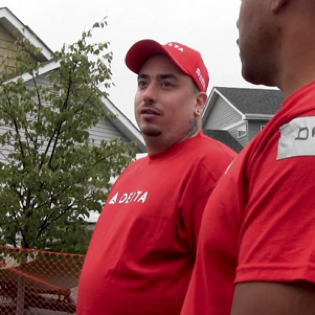 Mat Lohr, a Delta Air Lines maintenance technician in Minneapolis, has a special connection to the Habitat homes he volunteers to help build with Delta every year – he grew up in one. With the knowledge of what having a Habitat home meant to his parents and siblings, Mat quietly steps forward each year to help make that dream come true for other families.
When Mat was thirteen, he moved to Denver with his siblings and his parents. Shortly after the move, hard times struck as they struggled to keep up with the costs of raising a large family. A few months later, Mat's father heard about Habitat for Humanity and began the process of buying a home for his family.
At that time, you only had to be thirteen to work on a Habitat house - so over the next two-years Mat, his brother, and his father put in the 'sweat equity' time required to qualify for a home. It took another year before they were able to complete the purchase of the home. Due to some problems with getting the home completed, the family had to give up the home they had been renting and move, temporarily, into another, already completed, Habitat house. Mat says they were fortunate that Habitat helped them with the temporary home because his mother was pregnant with twins. The twins were born four months after the family moved into their new home. Mat's mom will make the final payment on her home before the end of 2014.
Today, Mat is happy to work for a company that builds several Habitat homes every year. He gets to build homes in the Twin Cities and has had the opportunity to work on Delta sponsored homes in other communities. "It's a good to be able to pay it forward for the next family," he says. "I'm glad to be able to help keep it going."