As you may have read on our previous blog, Holy Hammers, a faith coalition group is celebrating their 20th year in partnership with Twin Cities Habitat for Humanity. A group is made of individuals, and we wanted to highlight one individual who builds with New Life Presbyterian Church - Darby.
Before we dive into her experience, let's introduce you to Darby. She has been a Graphic Designer for about 20 years, but decided that she wanted to become an art teacher and has gone back to school for her Master's Degree in order to do so. She's currently working on her final paper for the semester, and we wish her good luck on her hard work toward completing her degree!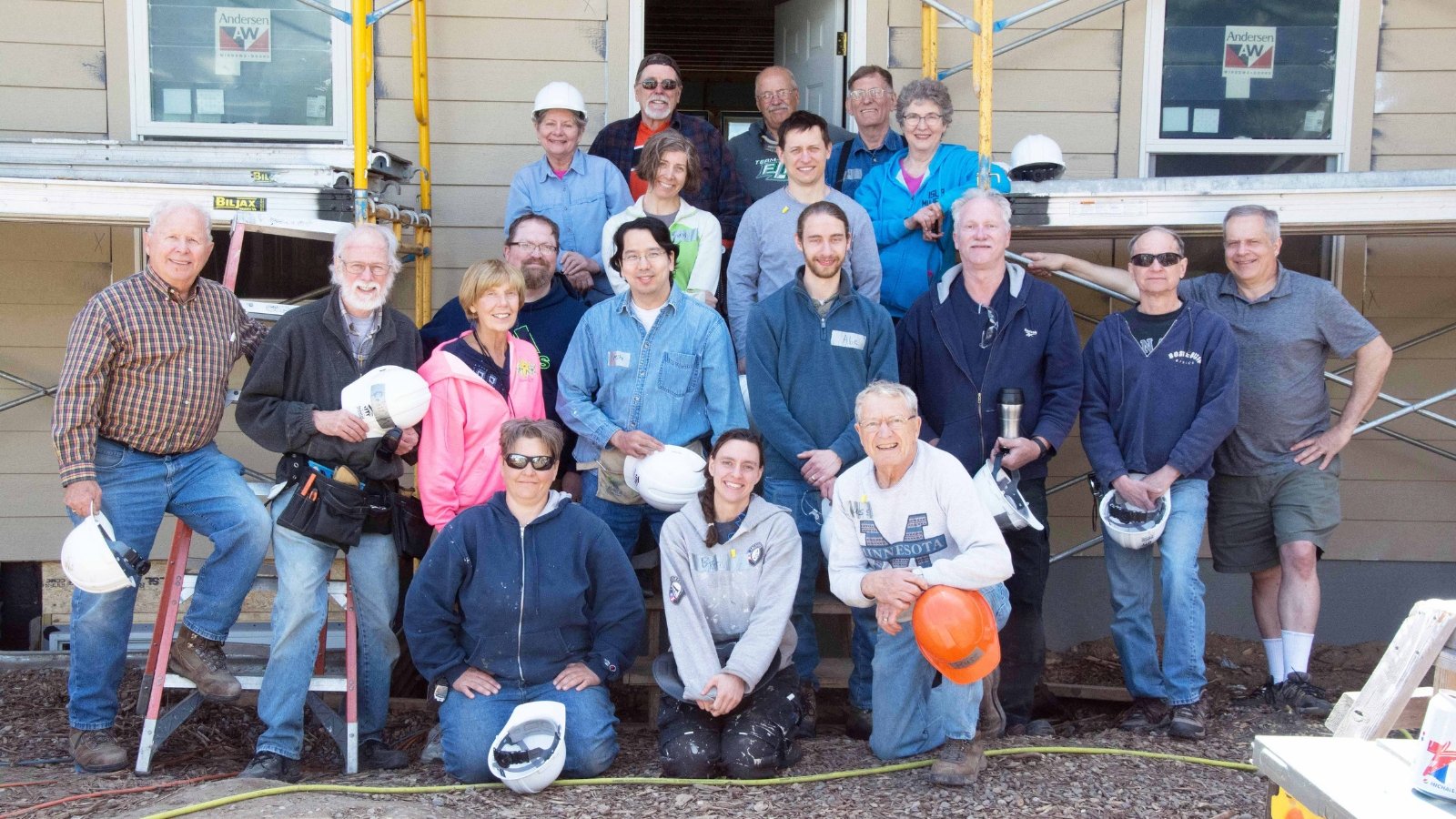 Darby has been volunteering for about 4 years with her church as part of the Holy Hammers coalition. Originally, she came to the group because her husband was volunteering both with his work and their church and recommended it to her. Darby says that it was a new learning experience for her. "My experience came from my childhood, living by an area that had houses being built. I would play in a new development as it was built, so I knew what a concrete foundation looked like - and framing, and other things. But Habitat has a different process (because it has volunteers), and everything was new to me."
Her first time on site, she was measuring and cutting boards with a partner and then framing up a garage wall. Building can be empowering, and Darby found out first hand. "It was pretty awesome. I never thought I could build a garage, and I would have laughed at anyone if they told me that's what I would do....but I now can say that I've built one. I built the walls, bolted them to the foundation, and helped put the trusses up."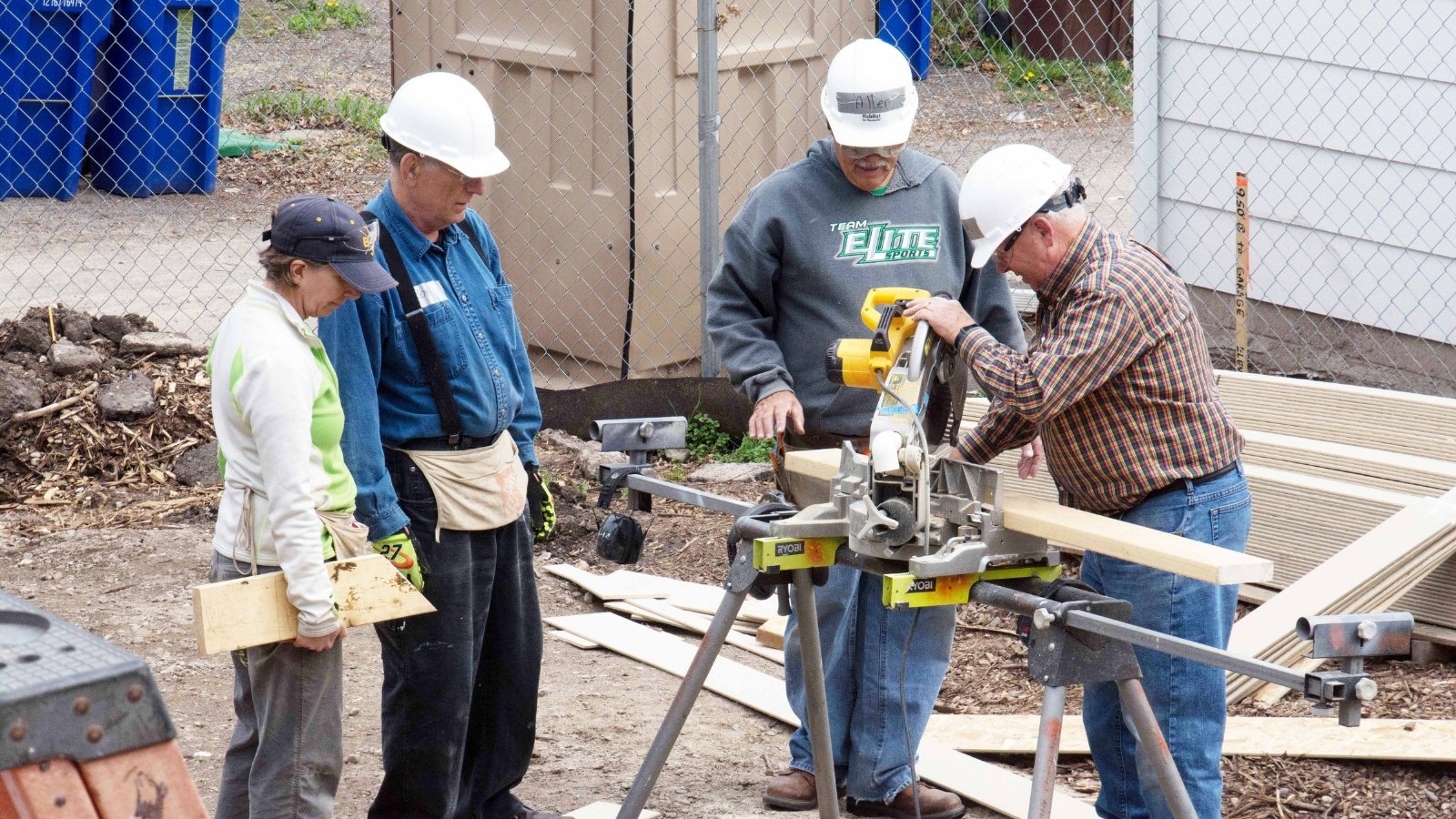 Darby is thankful for Site Supervisor, Terra, simplifying the process and making it easy for anyone to understand and pick up easily. The Holy Hammers make a community, Darby explained. When you come out to volunteer, you find a team and build a relationship with them - and you get good at what you do together. The camaraderie makes the build days even more fun, and since we've had Terra for a few years, she add to it.
"I've applied what I've learned in my own home, because my husband and I have done so much now." Coming on to site and doing something different all the time can really help build out both your confidence and homeowner DIY capabilities - and both Darby and her husband have made full use of it - adding their own porch to their home and putting in windows. Darby says she doesn't have fear of taking on a project because Habitat has given her the confidence to do these things.
Her favorite project is cutting boards - especially with the table saw. Having it down to a science, she and her team work efficiently to make sure everything gets done. Like many volunteers, she loves to be able to see the results that come from her work. She feels a sense of accomplishment and pride for what she can do for her community.
Sharing that she also has a disability was really important to Darby, because she wanted to let others know that anyone can come on site and make a difference. Because there are so many jobs on any given day, there will always be something for everyone to do - no matter what you bring to the table as far as ability or knowledge, and that's what makes Habitat special. She also wanted to encourage women to come out and try a build day. "I bet women will be surprised by how much they like it."