Fix it and forget it is a popular saying, but Twin Cities Habitat for Humanity wants everyone who came to, or heard about, our annual Fix It Fair to Fix It and Remember. While volunteers helped repair small, non-functioning household items for anyone who brought them to the fair, the event also served as a way to remind people of the mission of Habitat and all the ways we carry that mission out.
Our mission is to eliminate poverty housing from the Twin Cities and to make decent, affordable shelter for all people a matter of conscience. The Fix It philosophy plays a big part in accomplishing this. For instance, not only does Habitat build new houses, they buy older homes that are often in disrepair and rehabilitate them into like-new condition for a family to move into. Rehabbing a home saves it from being demolished and dumped into a landfill and helps renew a neighborhood. The process saves a lot of money and makes the home more affordable for a family who would otherwise not be able to afford a home. Held at our University Avenue headquarters on Thursday, October 9th, the Fix It Fair focused on renewing and extending the life of broken small appliances, mowers, lamps, and many more items. When a needed item is repaired it is kept out of landfills and saves owners the expense of having to replace it, something that can be critically important to a family living on an extremely tight budget. In that respect, it fits right in with our mission and programs.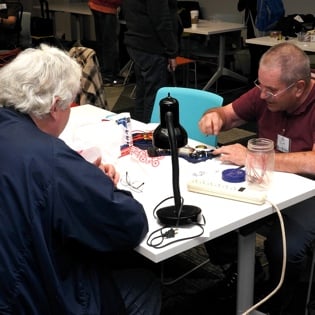 When a family faces the loss of a home because they lack the physical or financial resources to keep their homes in proper repair, the ABWK (A Brush With Kindness) program steps in and helps them repair their home. The Fix It fair did the same thing for families who lack the resources to repair or replace broken items, allowing them to focus their money on home maintenance, nutrition, education or other critical needs.
In addition to fixing things, volunteers at the Fix It Fair conducted a number of home maintenance and repair seminars. Learning how to repair a constantly running toilet, or replace a dripping faucet, not only saves homeowners money, it empowers them to keep their homes in good repair for the long-term. It's kind of akin to Habitat's Mortgage Foreclosure and Prevention Program (MFPP), which helps people repair a broken mortgage. A repaired lamp means a little money saved and a little easier time reading in the evening. A repaired mortgage means a lot of money saved and years of stable housing.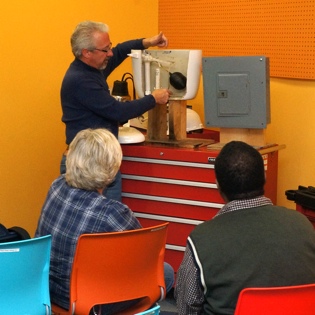 Finally, when an item can't be repaired, shopping at the Habitat ReStore in New Brighton becomes a great choice. Not only does it save a homeowner money, but the money they do spend helps fund homes for families who need them. Broken stoves, washing machines and other appliances can be replaced at great savings. Good-looking sinks, tiles and doors can be found to replace damaged ones. And, if a home is being remodeled, the ReStore is a wonderful place to remember; they accept items that have been replaced and make them available to other families. Just like the Fix It Fair, items donated to the ReStore don't end up in landfills, and they can save their new owners money that can go toward other critical family needs.
Fix It and forget it? Not at Twin Cities Habitat. Fix It and Remember is a better way. It's earth-friendly, but more importantly, it's family friendly, just like everything we try to do.