As a builder of affordable housing in the Twin Cities, Habitat for Humanity strives to provide homes that will meet a family's needs. In any given year, Twin Cities Habitat will build one or two accessible homes, and help to modify another 10-20.
Habitat works to make sure these homes are visitable, meaning "home construction practices so that virtually all new homes, whether or not designated for residents who currently have mobility impairments, offer three specific accessibility features."* These features include: creating at least one no-step entry to the main floor of the house, placing at least a half bathroom on the main floor, and making sure the doorway is wide enough for a person to enter if using a wheelchair or a walker.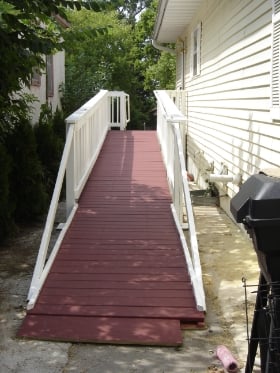 Since beginning to build visitable homes in 1995, Twin Cities Habitat has built twelve homes to accommodate families that have a member or members with disabilities. When building a home for a family that has member(s) with disabilities, Habitat will use ADA standards as a guide to implementing modifications, depending on the individual(s) condition and current/future needs. Common accessibility features that Habitat implements are:
Wheelchair ramps
Wider hallways/doorways to accommodate wheelchairs
Roll-in showers and other bathroom accessories (grab -bars, handheld showerheads, etc.)
Ceiling track systems
Tables/countertops that allow for someone in a wheelchair to use them
Common-sense placement of electrical outlets/switches so they are accessible to all in the house
After considering available lot sizes and topography, Twin Cities Habitat is planning on building two accessible homes in 2016 - one in St. Paul and the other in St. Paul Park. The process of designing a modified home starts with the design team consulting with a local Occupational Therapist and meeting with the family to address their specific needs.
"When I'm designing and modifying a home to accommodate someone with disabilities, I contact an Occupational Therapist that we've been working with over the last several years to help identify specific needs and features that should be incorporated into the design," said John Hall, Design Manager with Twin Cities Habitat. "She will review the design and offer suggestions as needed for access and traffic in the house. She will also visit the house towards the end of construction to make sure we have covered/installed the needed adaptations for the individual."
In addition to features that are added to Habitat homes, accessibility modifications are also provided through Habitat's A Brush with Kindness (ABWK) program for elderly and disabled families, which make up more than 50% of ABWK applicants. The ABWK team completes roughly 10-20 accessibility projects each year, based on the applications received and the funding and resources available. Typical projects include installing grab bars, ramps, railings, toilet replacements and flooring and door modifications.
The Kramers are one of the families that have purchased an accessible home from Habitat. Their previous rental did not provide the space and safety the family needed to be able to properly care for their two sons, who have special needs. The family moved into their new house in Savage in 2013, and has kept in touch with Habitat staff.
"The kids love their new school, and the new house has made caring for their sons much easier," said Khou Vang, Homeowner Training Engagement Senior Associate at Twin Cities Habitat.
*Definition excerpt from Wikipedia.