Have you ever wanted to get younger youth involved in Habitat but didn't know how? Twin Cities Habitat is now one of 15 affiliates in the United States to take part in the Habitat Readers Program!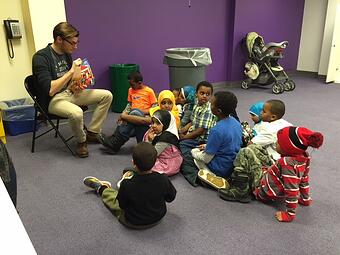 Habitat Readers is a four-part series of children's books that illustrate the global housing need through the view of another child's journey to safe, affordable shelter. Habitat Readers aims at engaging youth ages 5-8 with these fun, colorful, and informative books. These books are a great way for younger youth to learn about Habitat's work all around the world, and become engaged in our mission.
Youth United President Matt Yost read one of these books to a group of homeowner youth during our Homeowner Networking Event at the Children's Museum in February.
Watch Twin Cities Habitat's social media sites for upcoming book readings in the Twin Cities area!
If you have a group of 5-8 year olds and want to have a local book reading with your youth group, please contact sarah.harris@tchabitat.org.