Guest blog by Tara Lumley,
Senior Site Supervisor,
in response to homebuilding during COVID-19.
Anyone who knows me, knows that I love people. I mean, you have to love people in order to manage and train new faces every day. That is my area of expertise; look at a crowd of strangers and determine by first glance how to form teams of 3 or 4 people to be productive and build a quality home for a family.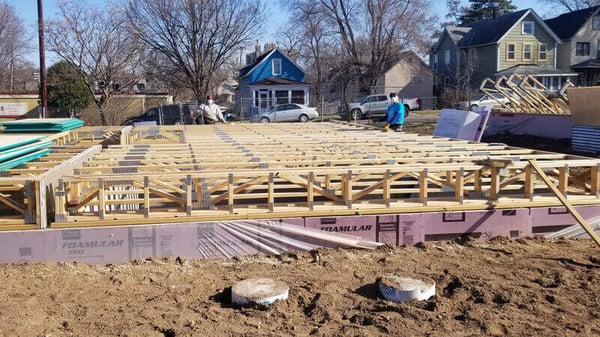 I may walk among the crowd, introducing myself and asking,"So what do you do at where you work? Accounting? Great. I need a detail person on trim today." Or maybe they're an HR Manager. "Wonderful! I need a person to motivate a team to shovel rock today."
I may examine a person's footwear to see if they are wearing worn boots that seem to display rugged experience. I can usually assume the person with the brand new athletic footwear has never been on a dirty muddy construction site before, or they would have chosen a more worn pair of shoes. My mind says, Worn boots volunteer= leader of wall layout crew. New athletic shoe volunteer = lumber sorter.
Things look a lot different in these days of COVID-19. My day looks more like this…
"Hey Shan, (my AmeriCorps member) Guess what? We have to shovel rock today. Guess why? BECAUSE WE DON'T HAVE ANY HR MANAGERS!" Then after I make my poor AmeriCorps member shovel rock all day, I owe her lunch.
We are usually quite tired after shoveling rock all day. I have a long commute, so by the time I get home I am pretty stiff from sitting in the car for over an hour. I moan and creak and eventually get myself out of the car.
It is amazing how the pace of our work has changed. I used to compare volunteers to trained professional carpenters. I thought 5 average volunteers equal 1 journeyman carpenter. So, If I have 20 volunteers and homebuyers, I have the equivalent of 4 carpenters. Backward math then suggests that Shan and I would equal 10 volunteers. Therefore, the two of us would get done as much as 10 average volunteers. This is not the case. Apparently Shan and I are less like journeyman carpenters, and more like HR managers. Very disappointing.
In addition to not getting much done and having sore aching muscles, it turns out that maybe I talk too much. I get this sense now when Shan starts to glaze over, that maybe I need a new audience. I suppose nobody ever noticed when my words were divided among 20 volunteers instead of just falling on one person. I guess I just thought that I should talk to entertain us both while we shoveled rock, but I guess that wasn't helpful. Poor Shan.
Usually by this time of year we have volunteer groups working and laughing and enjoying the sunshine, while we are getting things done. Weather has been ok, but not very warm most days. Missing warm smiling faces, and warmer weather.
Finally, I would like to mention the absence of caffeine and sugar. Usually groups bring coffee and doughnuts to share. The table upon which these sit becomes the gathering spot for volunteers. Great conversations and fellowship happen in that space. I definitely miss that comradery the most!!!!