Written by Julia Brauchle and Becky Engen
Each year, our Habitat volunteer management team works to fill 28,000 volunteer spots. Since July 2014, we've filled 16,767 of these spots – but that means we still have 11,233 opportunities to fill before June 2015! That's why we need YOU to get involved and sign our Take 5/Give 10 pledge to support Habitat's work in the Twin Cities Community.
Who Can Help Out?
Twin Cities Habitat offers a variety of volunteer opportunities, ranging from youth to our beloved retirees! No experience is necessary and all training and equipment is provided by Habitat staff.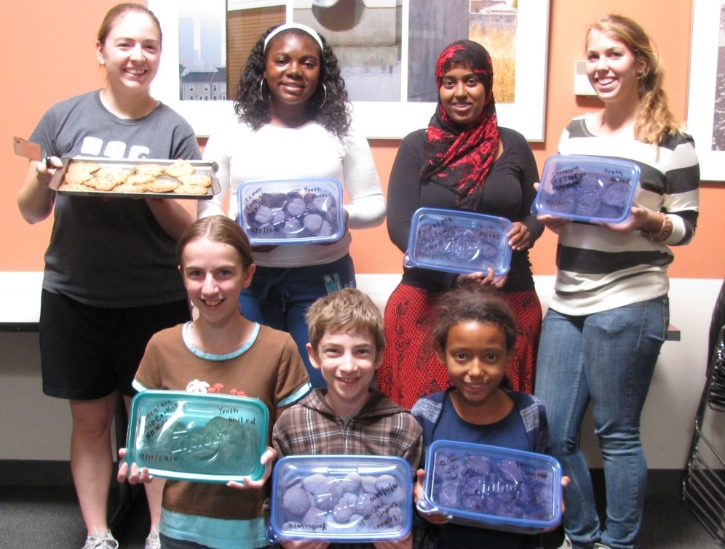 Families with young children can show support by baking cookies that will be delivered to our volunteers on site. Youth that are at least 14 years old can volunteer with an adult (21 years or older) supervisor at our ReStore and on Landscaping projects. Volunteers that are 16-17 years old can be on site with an adult supervisor (21 years or older), or can sign up to help out at the ReStore or on Landscaping projects on their own.
We also invite youth groups to experience our Habitat workshops and educational activities, as well as become a part of our youth volunteer team, Youth United!


Adults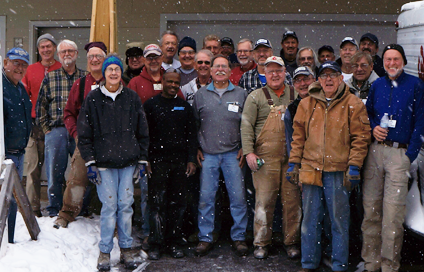 Any individual over the age of eighteen is welcome to sign up for any of our volunteer roles at Habitat for Humanity. Many of our high school and college – age volunteers are able to complete required service learning hours working on Habitat projects, and we have many retirees who have formed regular crews that serve one or more days on Habitat build and repair projects all over the metro. In fact, Jim Ramberg, our volunteer who served the most hours in 2014, gave 143 days (or 1,144 hours) as part of the 3Mgives Habitat Project Regular Crew. The average regular crew volunteer gives 17 days annually, and this year, the 3Mgives Habitat project volunteers gave 2,887 days (that's 23,096 hours!).
What can we do?
Although Habitat is probably best known for building homes, there are a number of other programs and services that are in need of volunteers.
A Brush With Kindness (ABWK) recruits volunteers to help with home repair projects, to help keep current homeowners in their homes. Individuals can also sign up to assist with the ABWK Home Interview Process.
The ReStore, Habitat's Home Improvement Outlet, is open to the public, and all revenue goes toward helping more local families. The store staff utilizes volunteers to keep donations coming in and getting merchandise out on the floor. They regularly have volunteer opportunities Monday- Saturday, and the store is open Tuesday – Saturday.
Other volunteers assist our Office, Event, and Warehouse Staff. We currently have a great need for volunteers to help our Family Services Team as Neighborhood Family Partners, and our Warehouse team is looking for a Warehouse Truck Driver.
What to expect
There are a few things that all of our volunteers will experience:
You'll learn something new- whether it's information on affordable housing in the Twin Cities or how to frame a house!
You'll have the opportunity to meet new members of the community, including other volunteers, Habitat staff, and Habitat homebuyers.
You'll experience the satisfaction of helping a family get one day closer to buying and moving into their home!
Why Volunteer?
Besides supporting your local community and helping families realize their dream of homeownership, there are a number of benefits that are experienced by those who serve*: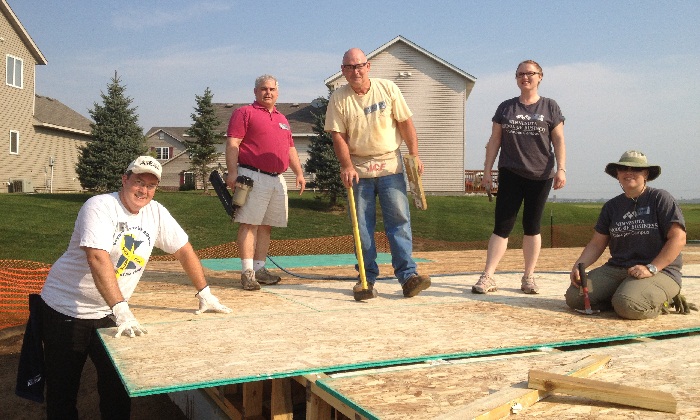 Volunteers report greater life satisfaction and better physical health than non-volunteers.
Volunteering has a positive effect on social psychological factors, such as one's sense of purpose/accomplishment (especially amongst retirees).
Serving as a volunteer increases an individual's social network, and makes them happier.
Serving others may increase longevity, lead to greater functional ability later in life, and strengthen one's resilience when dealing with health problems.
States with a high volunteer rate also have lower rates of mortality and incidences of heart disease. (Fun Fact - Minnesota ranks 3rd in national volunteer rates!)
Volunteers report lower rates of depression.
Sign Up!
Now is the perfect time to sign up to volunteer.
Want to take an extra step in supporting Habitat?
We're currently hosting our Take 5/Give10 campaign to introduce community members to Habitat's mission and to show you how volunteering your time and making a gift can impact the lives of families in the Twin Cities. The idea is simple:
"TAKE 5 minutes to sign up to volunteer and GIVE $10 to support Habitat's work."
If you have any questions about volunteering with Habitat, please contact our Volunteer Coordinator at volunteer@tchabitat.org or call 612-305-7114.

* Data taken from: http://www.nationalservice.gov/pdf/07_0506_hbr.pdf