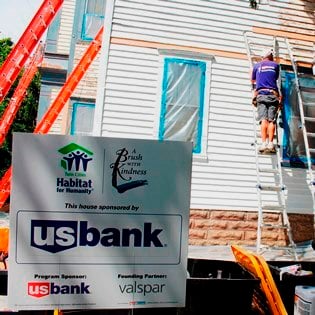 The U.S. Bank Foundation, a longtime partner of Twin Cities Habitat for Humanity, has once again provided a generous grant for our A Brush with Kindness program, supporting all painting and repairs projects for the month of August. This remarkable commitment of financial contributions and volunteer time is touching the lives of nine families in the metro area.
But this month's support is not the company's first time working with A Brush with Kindness or with Twin Cities Habitat. U.S. Bank is one of the founding partners of ABWK and the U.S. Bank Foundation has been a program supporter since 2010. Over the last 15 years, the bank has provided 400 to 500 volunteers annually and served more than 200 families through painting and repairs work.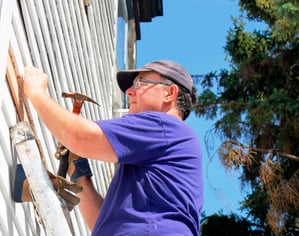 The bank sets a great example for other corporate partners and, because of its dedication, provides strong volunteer leadership on site. One of the group leaders, Steve Heinen (pictured here), has been with U.S. Bank for his entire 36-year career and has volunteered with Twin Cities Habitat for nearly as long. This year, Steve led a project in St. Paul with site supervisor Cindy Lehner-Smith and his colleagues in commercial banking. "It's something we can do together that's just different from our usual desk jobs," Steve says of the experience. "I love being out here with great people to work on a great project."
Steve and much of his group have been coming back for several years, so they really know what they're doing. Cindy was thrilled when she learned that Steve's group would be on her site. She loves that they are all able to jump right in with very little technical instruction. Steve and others have developed strong painting skills, but, according to Cindy, "Steve's true gift is leadership." He rallies his group, gets people up on ladders, and makes sure everyone is having a good time.
"The bank is very supportive of our volunteering," Steve shared, acknowledging that his group wouldn't have the opportunity to be on site each summer if it weren't for the company's encouragement and support.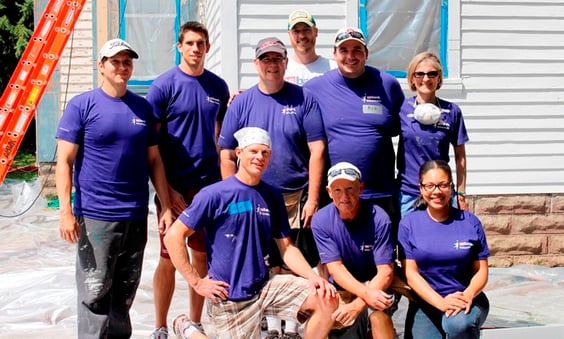 In addition to being an ABWK Premier Program supporter, U.S. Bank and the U.S. Bank Foundation are key contributors to other areas of Habitat's work. The company and its foundation have been dedicated partners since 1988, contributing over $1.4 million and more than 10,000 volunteers. Over the years, they have supported numerous homebuilding projects, the Hard Hat & Black Tie Gala, and the Jimmy & Rosalynn Carter Work Project. This year, the company will also contribute three work days on Twin Cities Habitat's 25th Women Build home.
This month, Habitat is feeling extra thankful for U.S. Bank Foundation's contributions to nine of our A Brush with Kindness projects. But we are grateful all the time for its sustained partnership and leadership across our programs and over the years!