If you've ever volunteered with Twin Cities Habitat for Humanity, you know safety is our top priority. And that's remained true during the pandemic. On construction sites and at ReStore Outlets, our staff and volunteers have been diligent about following our ever-evolving COVID-19 safety protocols. If you were one of those people, THANK YOU!
Please read on to see all of our current COVID-19 safety protocols, which are also updated on our Coronavirus Response page.
New Policy: Be Fully Vaccinated or Get Tested
With the rise in COVID-19 case counts, Twin Cities Habitat for Humanity is implementing a new policy for all volunteers: Effective October 4, all volunteers must indicate that they have either been vaccinated or have tested negative for COVID-19 within 48 hours of each time on site. All individual and group volunteers must pre-register on Habitat's scheduling tool (VolunteerHub) before your volunteer shifts to abide by this policy. By showing up to your volunteer shift, you are indicating that you are fully vaccinated or have tested negative within 48 hours of your shift.
If you need to find a COVID-19 testing location, please visit Minnesota's Department of Health webpage.
A similar vaccination and testing policy is in effect for our staff and AmeriCorps members. Volunteers are asked to abide by this new policy, in addition to following all current COVID-19 safety protocols, outlined below.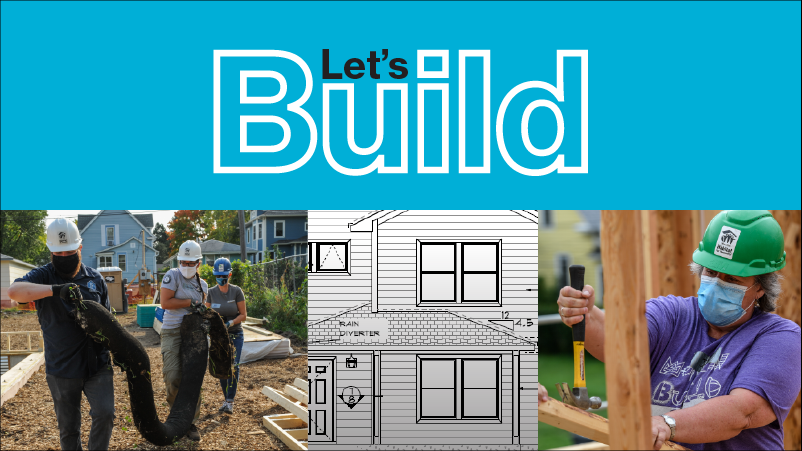 Volunteer safety highlights
Shorter days. Sites are open 8:30 a.m. – 3:30 p.m. to allow more time for deep cleaning.
Smaller crews. To allow space for social distancing, we've reduced our maximum number of volunteers. Depending on the project, there will be a maximum of 8 to 12 volunteers on site at any time.
Mask requirements. Masks are required indoors. Masks are encouraged when working outdoors, but are optional for fully vaccinated individuals. If social distancing is not possible, masks are required. Masks required at all times for those unvaccinated.
Be vaccinated or get tested with 48 hours of every volunteer shift.
Wash hands. Handwashing stations are on all sites. You're encouraged to wash hands often and avoid sharing tools.
Safe and sanitized. We continue our increased safety and cleaning measures, including social distancing.

Personal Protective Equipment (PPE)
Masks are required indoors. Masks are encouraged when working outdoors, but are optional for fully vaccinated individuals. If social distancing is not possible, masks are required.
Masks required at all times for those unvaccinated.
Please bring your own mask to site. If you are unable to do this, please reach out to your site supervisor so they can assist you.


Distancing
We will attempt to maintain at least six (6) feet between individuals to reduce the risk of transmission of COVID-19.

Some construction activities require closer than six (6) feet of distance (framing, scaffold erection and deconstruction, sheetrock, exterior insulation, weather barrier, window and door installation, siding, flooring and cabinet install). These activities will be present throughout the build.
Masks are not a substitute for distancing.

There will be a maximum of 8-12 volunteers permitted on site at a time, depending on location or build type.
Each person should use their own set of tools (hand tools, power tools, ladders, power cords, etc.) and materials (screws, nails, etc.) during the course of work where possible.
Habitat will provide all necessary tools, but you are encouraged to bring your own hand tools if you have them.
Work on separate floors or areas when possible while working on the interior of a home.
Work on separate parts of the house where possible while working on the exterior of a home.


Stay safe while volunteering
Wash hands with soap and water frequently for at least 20 seconds.

Habitat will provide adequate handwashing stations at all sites, including those without running water.
Hand sanitizer is recommended if handwashing is not available.

Minimize contact with common surfaces (door handles, etc.)
Avoid touching your eyes, nose, and mouth with unwashed hands.
Cover all coughs and sneezes with your elbow.
In all instances, a maintain at least a six (6)-foot distance between people.


Additional sanitation
Site staff will sanitize hard surfaces and all tools on site after each work shift.
ReStore staff will clean and sanitize common areas, bathrooms, carts, and hard top surfaces on a regular basis (start, mid-day, end of day) and as needed. More thorough cleaning will take place during non-access hours.
Expectations for persons exposed to, or exhibiting symptoms, of COVID-19
STAY AT HOME!
No person(s) may visit any Twin Cities Habitat for Humanity property who, within the last 14 days, has experienced any of the following symptoms (personally, or within their household):
Fever (100.4°F or greater)
Persistent Cough
Shortness of Breath
Chills
Muscle Pain
Headache
Sore Throat
New Loss of Smell or Taste
If you are experiencing any of these symptoms, stay at home regardless of whether you have tested positive for COVID-19 or are unable to be tested. If you have any questions, or if you would like any clarification on what meets the above criteria, please contact us before your arrival.
If symptoms appear while on site or after a day on site
Immediately return home and contact your health care provider as appropriate.
Notify your Twin Cities Habitat contact and site supervisor that you are experiencing symptoms.
Volunteer Management will ask who you have been in close contact with in the past two weeks.
Volunteer Management or your site supervisor will alert those who were in close contact.
Your health status will remain confidential.
Site may be shut down on short notice in accordance with Safety Policy.
We've outlined all of our volunteer guidelines in the below PDF documents. If you have any further questions, please contact our volunteer coordinator at volunteer@tchabitat.org or 612-305-7114.
Next Steps
Before you volunteer, we ask that you watch our safety webinar which covers many of the items listed above. Once you've done that, sign up for a volunteer day using our scheduling tool, Volunteer Hub!

We can't wait to see you out volunteering!