June 2021 Update: Judy Murakami celebrated her volunteer retirement this month after coordinating the Holy Hammers faith coalition for more than 25 years. Judy has helped the Holy Hammers grow into a group of 16 faith communities that come to build and fund a Habitat home each year! Since 1999, the Holy Hammers coalition has built 24 complete homes and parts of 10 others and donated nearly $1.6 million toward homebuilding projects.
In addition to coordinating for Holy Hammers, Judy joined in building on site, led a Women Build, was a frequent lunch provider, and kept exceptional records and photobooks of all the homes they worked on and families they built with. We are so grateful for Judy's partnership and organization!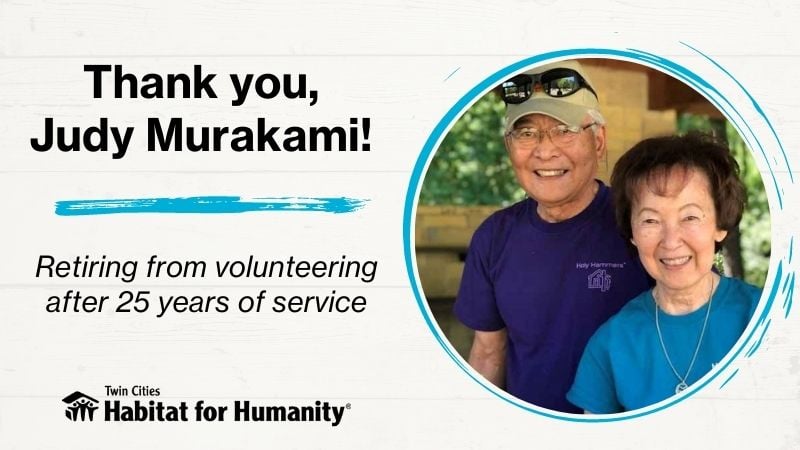 Read more about Judy's amazing involvement with Habitat in the volunteer profile below, published in 2018.
---
Original story by Becky Engen
What started as a church project to house a refugee family and her children, has blossomed into a strong coalition and an amazing partnership between local faith groups and Twin Cities Habitat for Humanity. This coalition, also known as Holy Hammers, has inspired new coalitions to form around the Twin Cities metro, and across the nation. At the core of the coalition are several incredibly dedicated people—one of which, is volunteer coordinator for Presbyterian Church of the Way (PCOTW), Judy Murakami.
To gain an understanding of how the Holy Hammers coalition came to be, you need go back to 1979. A group of members from PCOTW known as Together, Inc. had formed with the mission of helping refugees in the local community. The group had purchased a home on Roy Street in St. Paul, and Quy Vuong and her seven children lived in the home until 1993 when the children had all grown up and moved out, and Quy had passed away. With Together, Inc. in the process of dissolving, they decided to donate the home and land to Twin Cities Habitat.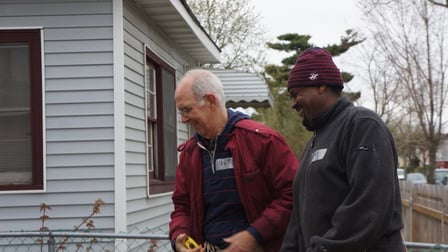 Habitat decided to build a new home on the lot, and PCOTW volunteers helped to build the home in 1996. It was around this same time that the church decided to focus its mission efforts on supporting youth and housing issues. Judy served on the committee and helped PCOTW get involved with a Habitat home rehab project, along with several other local churches.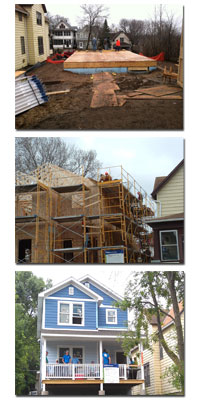 In December of 1998, the Holy Hammers coalition was formed. It included nine area congregations:
Centennial Methodist, Roseville
Christ the King Lutheran, White Bear Lake
Corpus Christi Catholic, Roseville
Falcon Heights United Church of Christ
Incarnation Lutheran, Shoreview
New Brighton United Church of Christ
New Life (North Como) Presbyterian, Roseville
Resurrection Lutheran, Roseville
Presbyterian Church of the Way, Shoreview
Since forming in 1998, the coalition has grown, and now includes:
Our Savior's Lutheran, Circle Pines
Prince of Peace Lutheran, Roseville
Shepherd of the Hills Lutheran, Shoreview
St. Michael's Lutheran, Roseville
St. Odilia Catholic, Shoreview
St. Rose of Lima Catholic, Roseville
Since 1999 through 2018, Holy Hammers have built 22 complete homes and parts of 10 others, making the purchase of an affordable home a reality for more than 180 people. Each year, the group provides and coordinates volunteer labor for 10-11 weeks, and as of Dec. 2017 they have donated a total of over $1,352,899 to help sponsor our building projects.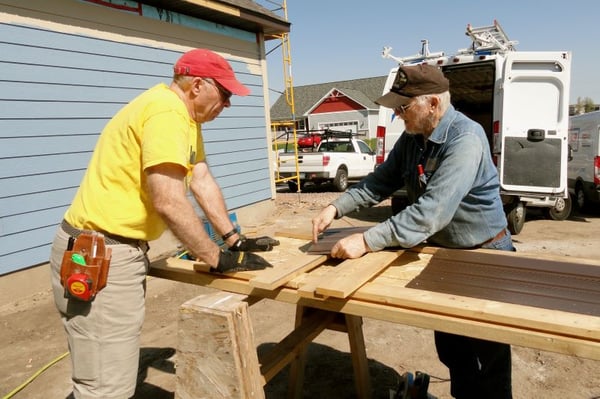 For her part, Judy transitioned from working on site to helping coordinate the fundraising and volunteering part of the projects for PCOTW. Her favorite part of the experience has been the Habitat home dedications:
"You get to meet the families and see how excited the children are. It also surprises me that you start with some individuals who may not even know how to pound a nail mixed in with experienced workers on your volunteer crews, and the end result is a beautiful and well-built house. I attribute much of that to the expertise and people-skills of the Site Supervisors and AmeriCorps members. It must be very challenging to build a home that follows the plan, is up-to-code, and primarily depends on volunteers to do most of the work. It's kind of amazing how it all comes together. And EVERY HOUSE IS WONDERFUL."
As part of her role with Holy Hammers, Judy has also consulted with a few other local faith groups who have put together Habitat coalitions of their own, including EpiscoBuilders, Interfaith Builders, and more.
"I just share how Holy Hammers formed and how we do things. I think sometimes it's just reassuring to talk with someone who has done it before. I always offer to help them get started, but no one has ever called me back. I like to think that's because they realize they can do it themselves!"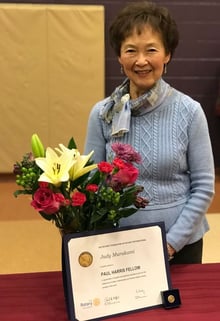 Earlier in 2018, Judy was nominated and received an award from a local Rotary club for her work as part of Holy Hammers. The Paul Harris award honors individuals who meet high professional and personal standards set forth by International Rotary founder, Paul Harris.
"Judy's commitment to both the Holy Hammers and Twin Cities Habitat is contagious," said Jackie Peak, Sr. Associate of Faith Relations at Twin Cities Habitat. "Her ability to recruitment, maintain and excite volunteers is awe-inspiring."
In the end, it's Judy's and her fellow Holy Hammer members' positive attitudes, dedication, and commitment to making a difference, that inspire and resonate with so many people. Judy said it best in her Paul Harris award acceptance speech:
"I think it's really up to each one of us to find our own way to try to make a difference. And, especially in today's world, it can seem overwhelming and easier to just sit back and not do anything—but joining together with others can be an empowering experience. It can lead us to take action and do something of service, and that can lead to lasting and positive changes in our communities and in ourselves."