St. Francis of Assisi said, "For it is in giving that we receive." Through their work with Habitat for Humanity for the past eleven years, Our Saviour's Lutheran Church in East Bethel has experienced both giving and receiving and has found it hard to separate one from the other.
By Bev Alsleben
At the rehab house on 82nd Circle N. in Brooklyn Park, between shovelfuls of black dirt, Pastor Dan shared how Habitat provides a model where individuals share their gifts, learn new gifts, give, and grow: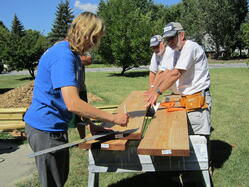 Lynda, the site supervisor, has loved sharing her gift with Habitat the past 18 years while raising her six, soon to be seven children. The Our Saviour's workers have remained with Lynda because they enjoy working with her. Donna, the organizer on the church's team, says Lynda is a gifted teacher who gives patient instruction and gentle guidance.
Jim, Lloyd and Ron are Our Saviour's members on the North Central Crew who give their time and talents to any task, even though none of them has a construction background. On day one on the rehab site, they and the team were building stairs on the deck, installing kitchen cabinets, spreading black dirt, patching walls and beginning laminate flooring. Tasks are not always easy. They recall an experience on another house where they put up trusses on the garage only to discover they were in the wrong place and had to be moved. Another time an inspector told them they needed to raise the header on basement stairs, but a new inspector the following day told them it needed to be put back. It's all part of the job. All three men agreed that staying with a project until it's done and handing the key to the owner is a huge reward!
As Our Saviour's event organizer, Donna sets up, organizes paperwork, prepares devotions, and gathers donations of pop, water, coffee treats, and items for lunch. This year, she estimates that there about 100 people involved with their three day workcamp. She particularly enjoys Wednesday's "Women's Day", where the women dive into any project, even putting up a wall. Donna says the work stretches everyone and the reward is a strong sense of liberation.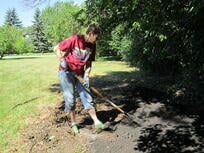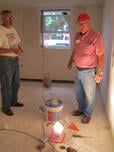 One to two times a year the work crew at Our Saviour's shares their joy in giving and receiving with fellow members over coffee and donuts. Literature, pictures and conversation help others experience the work, too. For an observant neighbor on 82nd Circle, the work provided him an opportunity to learn how to build stairs. Other neighbors in the area have or will surely experience the benefits of the work of Habitat for Humanity.
The entire work crew was excited, on day one, to be invited out to a Somali lunch in Fridley. The owners of a home they worked on last year were giving back by inviting them for lunch. The lunch would include a small ceremony - a dedication of the home with devotions by Pastor Dan. It seemed fitting that a crew so intimately involved in the construction could experience the appreciation and warmth of the family enjoying the home.
So, who are the givers and who are the receivers in the work for Habitat for Humanity? It is difficult to determine. The efforts of many giving people will make this deep red house with white trim, spacious rooms and a wonderful yard, a beautiful place to live. It's safe to say that Our Saviour's, a church who's given of their time and talents, will feel they're received as much as they've given when the keys are handed off to the new owner.