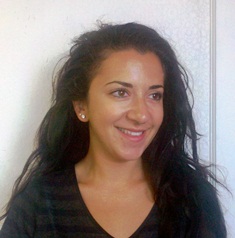 When I was a recent college graduate, a friend and former classmate, Katherine Anderson, suggested I volunteer with Twin Cities Habitat for Humanity. Katherine had previously worked at Habitat and we met in college where we both took housing classes together, and I heard of her work at the organization.

We both have similar interests of working closely with members of our local communities. Her work informed me of the magnitude of impact Habitat is making— not only in terms of housing programs, but also through strong community initiatives and provisions of equitable resources and opportunities for people from all walks of life.
This interest in community building stems from my educational, as well as personal, background. I am a recent master's graduate in Community and Regional Planning and currently I am a Planning Assistant at the Minneapolis Park and Recreation Board. I was born in Bosnia, where I spent my childhood amidst a war that broke out when I was four years old. Along with my parents and older sister, I emigrated to the United States in search of a better life and educational opportunities, which people often come here to do.

Without any ability to speak English, I had to work hard to catch up to my peers and at the same time become accustomed to a new way of life. It was a difficult task, but my parents worked hard to provide a stable life and education for both my sister and me. Having been through enough hardships, I realize the difficult circumstances we can all be dealt. That's why I greatly commend Habitat for their recognition and provision of hope and opportunity for hard-working families who need additional support to create and sustain a better future for their children.
While volunteering with Family Services, I expressed an interest in community outreach and neighborhood revitalization. Family Services Manager Cristen Incitti took the initiative to introduce me to John Slade, the Neighborhood Revitalization Initiative (NRI) Outreach Associate who works directly with community residents. As part of my work with John and the NRI, I was introduced to the diverse neighborhood of Frogtown, situated in close proximity to the undergoing construction of the Central Corridor.
Our first task involved conducting door-to-door outreach and talking to residents about the A Brush with Kindness program, as well as recruiting participants for Habitat Focus Groups. This task in itself was very enlightening for me. We spoke with numerous families – from renters to owners; young to old; long time residents to new immigrants. People were largely receptive and it was evident that they had a lot to say. This then carried over into discussion groups where residents expressed their concerns and changes they would like to see happen. Concerns included safety, access to jobs, public transportation, better education and public amenities, as well as items such as the implementation of street lights and postal boxes directly in the neighborhood. To some, streetlights may seem like a minor concern, but for residents it means improvement in overall safety.
Having spoken with residents, regardless of the language barrier, age or background, it was clear that most are working hard to provide better opportunities for their families; they could just use the slightest support and resources that would put them on the right track in achieving that goal.
Frogtown's diversity should be used to its full advantage to create interest that will generate pride and unity among its residents. As Jane Jacobs said, "… city areas with flourishing diversity sprout strange and unpredictable uses and peculiar scenes. But this is not a drawback of diversity. This is the point of it."
My time with Habitat and the NRI has been an incredibly rewarding and valuable learning experience, which is why I look forward to continuing to assist with future tasks. The next step involves compilation of the discussions to ensure the information collected is relayed in an effective manner and residents' opinions and efforts are not overlooked in any way.
Jasna Hadzic, Volunteer, Neighborhood Revitalization Initiative
What are the concerns you have for your neighborhood? Are they similar to those expressed by Frogtown residents? Leave a comment below!