Guest blog by Laura Tanner,
Major Gifts & Planned Giving Officer

You are simply amazing. In just over four years, you multiplied the impact! Your generosity, passion, and resilience helped raise $55 million for the Multiplying the Impact campaign to double the number of families who buy homes with us each year. Join us virtually on Monday, October 5 at 4:30 p.m. to celebrate all you've accomplished through this campaign.
Thanks to your support of Twin Cities Habitat for Humanity, hundreds of families and thousands of children have safe places to study, celebrate, and thrive. We can't wait to kick off the week with this exciting celebration. Tune in starting at 4:30 then stick around for some fantastic musical entertainment until 5:15 p.m.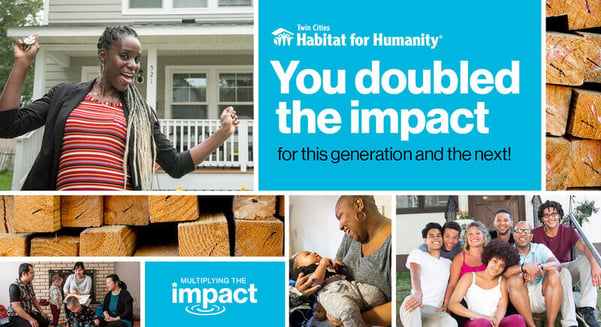 No RSVP required. Go to www.tchabitat.org/celebrate to add the event to your calendar. You will also go to www.tchabitat.org/celebrate to access the celebration on October 5. Plus, the first 250 people to join the virtual event will have a chance to win awesome Habitat apparel.
You stepped up BIG time
During this Multiplying the Impact campaign supporters like you stepped up and rallied our community behind this critical mission. You challenged others to donate, hosted fundraising parties, led volunteer build days, advocated with friends, and attended home celebrations and events. Your actions help create the thriving region we all want.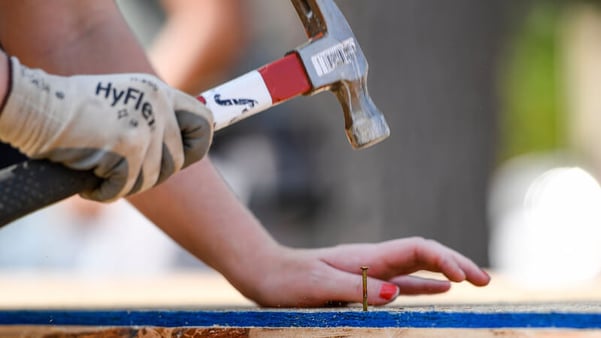 But the most important milestones of this campaign have been every home closing, where a Habitat homebuyer becomes a homeowner after all of their hard work. Families like Muktar and Ensigna, our first Open Market homebuyers. Angel and her three children, whose sanctuary of home has been a place to heal and study. Children like Moses, who is growing up in a home filled with love, faith, care, unity, and comfort. And hundreds more families who have purchased homes with Habitat and now have safe, stable, affordable places to call home.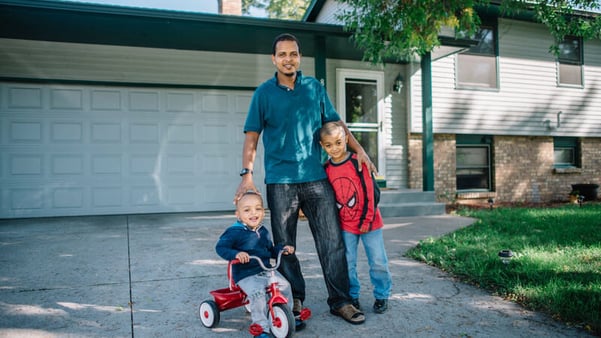 Home has never been more important. Your generosity has multiplied the impact and created a ripple effect that will expand for generations. Thank you. The need for safe, stable homes has never been greater. The twin pandemics of COVID-19 and systemic racism have made one thing abundantly clear: homeownership is essential for public health and is a building block for racial equity. As we celebrate the end of the Multiplying the Impact campaign, please know we'll need your ongoing support to continue expanding homeownership and protecting homeowners well into the future.
There's strength in numbers. We hope you will share this virtual event with friends and family to continue to multiply your impact. October 5 is World Habitat Day so you'll be part of a global community celebrating the transformational power of home. Remember to go to tchabitat.org/celebrate to access the event.