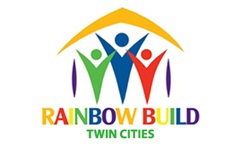 ---
Rainbow Build is a special, week-long initiative that brings together awareness of affordable housing programs in the community and education about how to advocate for Lesbian, Gay, Bisexual, Transgender, Queer and Allied (LGBTQA+) families currently living without decent housing.
Throughout the week (August 24th-August 28th) eighty-two volunteers, community supporters and family partners gathered to work together on two Habitat homes in Richfield. In addition to countless individual volunteers Rainbow Build hosted crews from Gay4Good, Hell's Kitchen, Target, Thomson Reuters and Voya Financial during the week.
Each build day was paired with conversations about barriers to affordable housing and an introduction to many of the advocacy programs working for LGBTQ families in the area.